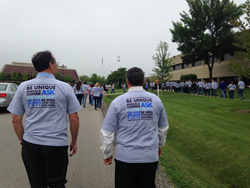 (PRWEB) June 13, 2015
La Macchia Enterprises' team members Rebecca Rachoner and Shawn Gulyas were a little surprised when, at a recent conference, they noticed other conference attendees taking pictures of their backs. Rachoner and Gulyas were sporting the LME team member t-shirts, which feature the company's six core values - Be Unique; Be Well, Work Well, Live Well; Embrace Change; Get Your Hands Dirty; Ask; and Live End-to-End. Conference attendees were intrigued by these phrases and wanted to know more. It's not the only time the core values have been a conversation starter. LME recruiters often find themselves responding to questions about the core values within minutes of a phone interview. Brand representatives also find the core values a great way to introduce the many brands of LME to suppliers and vendors.
The core values are more than words. They embody the spirit and work ethic of the LME team in Milwaukee and around the country. Team members at LME not only know the core values but they demonstrate them daily. In one Glassdoor.com review, a current team member said, "My manager is fantastic and really represents our core values." The Glassdoor page is abundant with other comments about the core values and the culture they represent.
One element of this culture is the LME wellness program, which correlates to the core value of "Be Well, Work Well, Live Well." The program is what keeps our team members engaged. It's what builds cross-department relationships and it's what earned the company the WELCOA Gold Award for 2014. Wellness is structured around four wellness pillars – Purpose, Balance, Nutrition and Movement – so it's more than fitness and healthy eating. Wellness is being a good family member and friend. It's understanding your finances, decreasing your risk for disease, giving back to the community, managing your stress and so much more. LME's wellness program embraces the "Be Unique" core value, too, as team members take advantage of opportunities such as a workshop on purpose with Vic Strecher, a visit from ComedyCity, a yoga-thon and more.
Learn more about LME's focus on wellness and the five other core values by joining the growing team.
About La Macchia Enterprises
La Macchia Enterprises (LME) was founded in 1974 by William E. La Macchia in Milwaukee, Wisconsin. Under its umbrella are the respected vacation brands of The Mark Travel Corporation, including Funjet Vacations, Blue Sky Tours, United Vacations and Southwest Vacations. La Macchia Enterprises also includes investments in leisure technology with Trisept Solutions and VAX Vacation Access. For more information, visit lamacchiaenterprises.com.