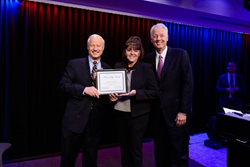 Clean air, water and land is not a birth right, it's a responsibility.
Aurora, CO (PRWEB) June 15, 2015
CONTACT:
Kelsey Bye | Media and Communications Associate
(202) 289-0957 | kbye(at)smallbusinessmajority(dot)org
Colorado Medical Waste Owner Honored with Sustainability Award at Small Business Leadership Summit in Washington D.C.
Colorado Medical Waste owner Beverly Hanstrom honored at Small Business Leadership Summit for commitment to sustainability
Aurora, CO—Beverly Hanstrom, president and owner of Colorado Medical Waste, Inc. was honored with the 2015 Small Business Majority Sustainability Award at the Leadership Summit, May 11-13, 2015, in Washington D.C. for her commitment to sustainable practices.
Colorado Medical Waste incorporates a process known as ozone medical waste processing, which utilizes ozone gas, electricity and an industrial shredder to turn medical waste into confetti. The process reduces medical waste volume by 90 percent diverting tons of medical waste from landfills, incinerators and hazardous waste facilities with absolutely no emissions, while conserving natural resources. The Small Business Majority Sustainability Award aims to bring awareness to sustainable business best practices and demonstrates how sustainability benefits companies, the environment and all stakeholders, today and for the future. Her environmental stewardship exemplifies the true meaning of sustainability to reduce our carbon footprint. Hanstrom was awarded Small Business Majority's Sustainability Award which was presented by U.S. Congressman, Mike Coffman (R-CO).
"At the Summit, I had the opportunity to meet the head of the Small Business Administration, Maria Contreras-Sweet. I thanked her on behalf of the SBA for investing in me and my dream to bring ozone medical waste processing to Colorado and for selecting me to participate in the Emerging Leaders program. Sponsored by the SBA, the Emerging Leaders Initiative is an intensive executive-level MBA program intended to accelerate the growth of high-potential small businesses in America's underserved cities. I was able to meet and take a photo with her and represent the program's 14 other participants in Colorado."
Hanstrom also had the opportunity to speak directly to Joseph Goffman, Associate Assistant Administrator & Senior Counsel for the U.S. Environmental Protection Agency about outdated federal regulations that hinder implementation of sustainable ozone processing technology.
"It was an honor to represent small businesses across America and to receive the 2015 Sustainability Award from Small Business Majority. It was an unforgettable experience to share our sustainable disposal method with fellow Summit participants and leaders from Obama's Administration. The event gave me a platform to raise awareness, to promote change and advocate that sustainability and business can go hand in hand. It was a highpoint in my life and my career that I'll never forget," said Hanstrom.
This is not the first time Hanstrom has been recognized for her sustainable practices. Under her leadership, Colorado became the third state in the nation to implement ozone medical waste processing technology. In recognition of its game-changing impact, the City of Aurora granted her company the 2014 Business Recognition Award for Environmental Sustainability.
"Clean air, water and land is not a birth right, it's a responsibility. It's time to include sustainability in all levels of academic curriculum; in our daily lives and in business because the quality of our lives ultimately depends on the health of our planet. Our future is worth the fight," said Hanstrom.
For more information about the Summit, please visit: http://www.sbmleadershipsummit.com
For interviews with Beverly Hanstrom or a member of Small Business Majority, please contact Kelsey Bye at (202) 289-0957 or kbye(at)smallbusinessmajority(dot)org.
###
Colorado Medical Waste
Colorado Medical Waste, a small, minority woman owned business is leading the industry with sustainable medical waste processes. Over twenty years of experience combined with cutting edge technologies, CMW brings medical waste management into the 21st century. Join Colorado Medical Waste and become environmental stewards and champions for change to reduce our carbon footprint. Together, we can make a difference!
Facebook
Twitter
Google+
LinkedIn
About Small Business Majority
Small Business Majority is a national small business advocacy organization, founded and run by small business owners to focus on solving the biggest problems facing America's 28 million small businesses today. We actively engage small business owners to drive smart public policy and get entrepreneurs the resources they need to thrive. We conduct extensive opinion and economic research and work with our rapidly growing network of 40,000 small business owners across the country to ensure their voices are an integral part of the public policy debate. Learn more about us on our website and follow us on Twitter and Facebook.