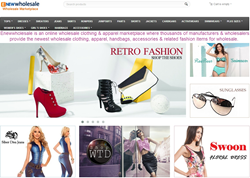 Los Angeles, CA (PRWEB) June 13, 2015
Enewwholesale.com is a new online wholesale B2B marketplace offering 100% free services to all manufacturers and distributors who sell wholesale products: no monthly fee, no set up fee, no transaction fee, no limited product listing, no contract needed. All vendors get an individual website on the platform with their company logo, name, contact info, etc., relieving them of the stress of having to save money for building up a website and advertising fees. They can also create all of the categories that they need on their store's home page. In a very short time, this wholesale platform has increased 1,000% in sales and continues to grow in the wholesale industry in the US with more vendors and buyers.
Enewwholesale only offers access to retail business owners searching for wholesale products. All products are sold by box or package only. The difference of this site from other platforms is that it is for wholesale items only with a low price guarantee and shipping of products directly from the manufacturer to the buyer's shipping address.
Current wholesale products include: clothing, shoes, accessories, handbags, and other fashion related items. Other categories that can be added by new manufacturers include: home, garden, tools, sports, beauty, health, groceries, toys, kids, baby, automotive, industrial, games, electronics, computers and more.
Free shipping is available to online patrons whom make a purchase(s) that surpass a certain amount (the amount depending on each manufacturer or distributor's discretion).
The main goal for the company is to offer retail buyers easier access to wholesale products online, saving time, money and travel for the sake of finding different manufacturers in different parts in the US.
Contact information:
Enewwholesale
Phone: 888 926 2589