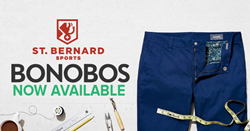 Dallas, Texas (PRWEB) June 15, 2015
Dallas based St. Bernard Sports is pleased to announce that they have been exclusively chosen to carry items from NYC based menswear brand Bonobos as part of their online offering.
Bonobos, which features "Guideshop" stores in both Austin and Dallas locations, has a strong following in the southern central region. Bonobos director of sales Heather Boyle said, "We launched in St. Bernard Sports stores in November of 2013, and since the start it has been a huge success. We're excited to take business to the next level and showcase our full lifestyle offering. Our number one focus is customer service and St. Bernard Sports takes on the same approach."
With this announcement St. Bernard Sports becomes just the second online retailer to have Bonobos products available to their customers.
St. Bernard Sports boasts a 38 year tradition of introducing shoppers to new and unique ways to style themselves for adventure. Bonobos, with their attention to people, comfort and playful elements in their designs, is the perfect designer for the St. Bernard Sports customer. The St. Bernard Sports staff has excitedly styled in-store shoppers in Bonobos for years, watching as customers became loyal to the brand. Now, the St. Bernard Sports online team is thrilled to have the opportunity to do the same with online customers.
Currently St. Bernard Sports carries the full breadth of the Bonobos spring and summer lines as well as items from the brand's golf line, "Maide." Items include a collection of woven goods including men's shorts, pants, and swimwear as well as women's swimwear, tanks, and knits. Accessories, including sunglasses and footwear, are also available.
As with all Bonobos Guideshops, customers at St. Bernard Sports can expect a one on one shopping experience to help with fit and styling. Products are then ordered online and can be delivered to the customer's home in a matter of days. Free three day shipping and free returns are offered on all orders.
Products are available in the St. Bernard Sports online store now.
About St. Bernard Sports:
St. Bernard Sports is a family owned ski, snowboard and apparel retail shop and online store based in Dallas, Texas. St. Bernard Sports has two retail locations (and is headquartered) in the Dallas, Texas area and has a third retail location in Austin, TX. The company currently focuses on carrying men's, women's and children's skis and snowboarding equipment as well as high end and preppy clothing, including fashion accessories such as sunglasses, watches and bags. The company also features ski shop services including tuning and ski waxing at two of its locations.