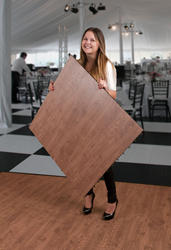 SnapLock PLUS portable dance floor system is yet another example of what sets us apart from the competition
Salt Lake City, Utah (PRWEB) June 12, 2015
SnapLock Industries announced the release of their latest innovation with SnapLock PLUS®, a Hi-Tech portable dance flooring system. This durable, lightweight, 3'x3' all-weather panel system is created with SnapLock's patented PowerLock® system and NoWalk™ Technology. These lightweight panels can be interlocked to create a custom portable or permanent dance floor of virtually any size – no tools required! SnapLock's single largest module creates a virtually seamless appearance and makes for an even faster indoor or outdoor assembly. SnapLock PLUS® is durable and easy to clean and is the most advanced dance floor in the industry.
"Along with our superior technology and a product that is 100% made in the U.S.A, the new SnapLock PLUS® portable dance floor system is yet another example of what sets us apart from the competition." stated SnapLock CEO, Jorgen Moller
Over 30 years ago SnapLock invented the first modular dance flooring systems and today supply SnapLock dance floors to nearly 70% of the portable rental flooring industry. The multi-patented design of SnapLock portable floors are engineered for the tough demands of the special event rental and hospitality industries.
Snap Lock Industries owner / operators Jorgen (CEO) & Kerry (COO) Moller are part of the family who created the modular flooring industry nearly four decades ago. The management, design, and manufacturing teams at SnapLock have more hands-on experience than anyone in the business. Unlike our competitors, we engineer, manufacture, ship, and sell our flooring from under one roof. We are family owned and operated and all our modular floor products are 100% American made.
Based in Salt Lake City, Utah, Snap Lock Industries, Inc. is the industry leading manufacturer of interlocking modular flooring. Our 150,000 square foot manufacturing ISO 9001:2008 certified facility operates 24 hours a day, 7 days a week, 365 days a year, while our 100+ employees stand ready to give you the sales and support experiences you deserve.