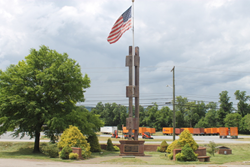 Richmond, Virginia (PRWEB) June 11, 2015
An online auction is currently underway for a World Trade Center 9/11 Memorial Monument located at the former headquarters of the Old Virginia Brick company. At more than 40 feet in height, the unique and strongly patriotic monument consists of structural steel beams salvaged from the 33rd through the 36th floors of the World Trade Center's North Tower. Adorned with the American flag, the inspiring monument has been a familiar landmark in Salem, Virginia for more than a decade.
Richmond-based Motleys Asset Disposition Group is coordinating the auction of the monument, which is located at 2500 West Main Street in Salem. Interested parties may bid now through July 14. For more information, visit Motleys.com
More than 3,000 people lost their lives during the 9/11 tragedy. A portion of the auction proceeds from both the secured party and Motleys will be donated to the 9/11 memorial fund.
"This is a very inspiring September 11 memorial," said Mark Motley, CAI, AARE, President and CEO of Motleys Asset Disposition Group. "When you visit it in person, it's a moving and compelling visual reminder of the Twin Towers that once stood in the heart of lower Manhattan and the many lives lost in the tragedy."
The monument was originally erected and dedicated by the Old Virginia Brick Company in 2003 to commemorate the many victims of the terrorist attack. In addition to this online auction for the 9/11 monument, an online auction of the company's inventory will be held June 17 – 26. A foreclosure auction coordinated by SVN/Motleys is scheduled on June 23 for the company's properties.
The memorial monument stands on a custom brick base fitted with a brass plaque. The damaged beams are joined at three points by connecting plates. A large American flag is positioned on top of the beams. More than two dozen photos, including close-ups of the dedication inscribed on the plaque, and full details about the auction are available on the Motleys website
All internet buyers must register online. For convenience, interested parties may place an absentee bid at 3600 Deepwater Terminal Road, Richmond. The memorial may be inspected daily from 9 am – 4 pm.
###
About Motleys Asset Disposition Group
Motleys professionals are dedicated to the auction and appraisal industry, and offer a full array of asset sales, valuations, and management services with global reach through its investment into internet bidding technologies. From its Richmond, Virginia Corporate Headquarters and Auction Complex, Motleys serves thousands of federal and local governments, public utilities, corporations, financial institutions, the legal community, executors, and business owners throughout the Mid-Atlantic region. Motleys professional staff includes members of the National and Virginia Auctioneers Associations who have earned various designations and certifications.