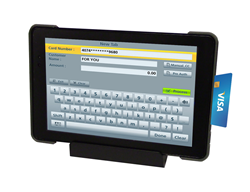 Schedule a private meeting with the CEO to discuss EMV Solutions. Contact Julie Berg today at (760) 634-6774 or email JBerg@benseron.com.
Naples, FL (PRWEB) June 16, 2015
Bevo POS will be the one to watch at the IFE Show at the Javits Center in New York City. Benseron, developer of the Bevo POS, is a leader in restaurant POS systems. They will not only unveil their new ordering application, but also showcase their new Prestige POS Terminal and Rugged 7" to 10" screen tablets with a built-in EMV card reader. A necessity for all business owners.
The new online ordering application is designed for chain stores and franchises. Customers can use a mobile app and assign a location where they shop all the time and then enter their credit card number once and they are ready to make future purchases quickly.
With malware attacks causing world-wide financial concern, change is coming and the liability will be shifting in October 2015. Business owners need to have the ability to accept chip card payments, otherwise, the liability for counterfeit credit card transactions will shift to them. What does that mean? Merchants using non-EMV compliant devices that choose to accept transactions made with EMV-compliant cards assume liability for ANY and ALL transactions that are found to be fraudulent. MasterCard defines the liability shift this way: The party, either the issuer or merchant, who does not support EMV, assumes liability for counterfeit card transactions.
Benseron takes this change very seriously and is ready to handle the change and help customers with the transition. Onur Haytac, CEO of Benseron IT will be attending the International Franchise Show in NYC (Booth #771), June 18-20. He is dedicating his time while at the show to talk to business owners about this very important topic. A private meeting can be scheduled by contacting Julie Berg at (760) 634-6774 or email JBerg(at)benseron(dot)com. Only a limited number of meeting slots are available with Mr. Haytac. Free IFE admission tickets can be obtained by clicking here.
Bevo POS, the company's most sophisticated and cutting-edge restaurant point of sale software solution, has been designed specifically for franchise owners to meet the unique high-pressure demands, extensive data analytics of the franchisee and franchisor with single and multi-store needs, and the ability to grow indefinitely. Bevo offers users a master-list of unprecedented components and functionality that come standard with the system, as well as specialty upgrades if necessary. Bevo POS is a robust system that maintains full-system operation even during a power outage or Internet failure because of its system-wide redundancy. "Bevo POS is the only fully redundant POS on the market today," said Benseron CEO, Onur Haytac.
About Benseron Information Technologies, Inc.
Benseron Information Technologies, Inc., established in 2004, in Naples, FL., is a direct manufacturer, that designs software platforms and applications that streamline restaurant POS software and retail POS operations to help customers cut costs and improve efficiency. BevoPOS, the first ever hybrid POS is the first fully redundant POS system and most reliable solution available. Mobile capabilities saves time while business intelligence dashboards offer real-time statistics. For more information or a free demonstration, please visit http://www.bevopos.com or call 800-785-6012.