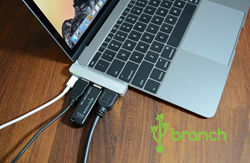 (PRWEB) June 15, 2015
SF Bay Startup BranchUSB solves the new Macbook's missing port issue.
Silicon Valley startup BranchUSB has created a very unique solution to the 12" MacBooks' missing port issue. Since its release, the notebook's single USB-C port has been a topic of debate and this lack of ports has spawned several USB splitting hubs offering these missing ports. However, BranchUSB, seeing these hubs were only being offered as wired and cumbersome additions, decided to craft their own solution. "The new MacBook is one of the most portable notebooks on the market, we think that a bulky wired hub is not the proper solution to providing more ports." said a Branch representative. It is evident through the design that they took a completely different approach. The BranchUSB hub features a USB-C charging port, two USB 3.0 ports, an HDMI port and charging indicator light all packed into a small fully integrated enclosure. This enclosure has a precision engineered form factor that contours and connects to the new MacBook. The engineers even worked around the rubber foot underneath the MacBook to provide a hub that would sit perfectly flat on a tabletop. Integrated, not intrusive is the mindset at BranchUSB. In fact, the designers' goal was to have a hub that could be left on at all times. However, it quickly and easily disconnects and stores away for those on the go. The Branch USB hub was designed with the goal to complement the stunning lines of the MacBook, and for that reason it is being offered in all three colors: Silver, Space Grey and Gold. Branch goes further than the missing port issue by manufacturing a near identical hub with 64 Gigabytes of internal storage to help offset the small size of the notebooks' solid state hard drive. This increases the 256 GB MacBook storage space by a substantial 25%. "Branch 64" has the same stunning form factor as the original and provides crucial space for those items that owners don't want to store on the cloud or can be dedicated to entire libraries of music, movies and photos. The Branch USB hub is available for preorder on Kickstarter.
https://www.kickstarter.com/projects/branchusb/branch-form-fitted-usb-c-hub-for-new-macbook/description
For business inquiries BranchUSB can be reached at hello(at)branchusb(dot)com