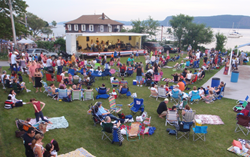 Ossining's Friday Night Concert Series features local performers covering a wide range of genres from classic rock, pop, and jazz to urban folk, funk, and R&B.
Ossining, NY (PRWEB) June 12, 2015
Ossining is celebrating summer this year with a series of free weekly outdoor concerts for all ages. The Friday Night Summer Concert Series, sponsored by the Village and Town of Ossining, kicks off with a special holiday performance and fireworks display on Thursday, July 2nd at 7:00pm, with a rain date of Thursday, July 9th. All concerts take place at Louis Engel Waterfront Park. In the event of rain, the Friday night concerts beginning on July 10th will be held at the Ossining Public Library's Budarz Theater.
Following the Independence Day Celebration, a new musical group will take the stage each Friday for a 7:00pm show. The seven-week concert series, featuring a variety of local performers, runs through August 21 and covers a wide range of genres from classic rock, pop, and jazz to urban folk, funk, and R&B. Concertgoers are encouraged to bring blankets or foldable chairs for seating. Picnics are welcome and food will also be available for purchase.
Thursday, July 2
Mike Risko Band and Road to Ruin – Playing an eclectic mix of pop and rock covers, the Mike Risko Band kicks off Ossining's annual Independence Day Celebration with a 7:00pm show. From Taylor Swift and U2 to The Who and everything in between, the Mike Risko Band is a guaranteed night of great music for the whole family. The fireworks show is scheduled for 9:15pm. Afterwards, Road to Ruin, featuring Thomas Grieve, will keep the celebration going with their guitar-driven take on classic rock tunes.
Friday, July 10
Powderfinger – Considered by many classic rock fans to be among the top bands in the tri-state area, Powderfinger includes Bob Goetz, bass and vocals; Norman Dodge, guitar and vocals; and Ronnie Negro, drums and vocals. From The Allman Brothers to ZZ Top and everything in between, Powderfinger play the songs the way you know and love them.
Friday, July 17
Marc Berger – Enjoy an outdoor musical performance of American West originals by Marc Berger. Marc's music captures the vastness and romance of the West while exploring its deep roots in the American psyche. He has opened shows for Bob Dylan and other national acts.
Friday, July 24
Ricardo Gautreau Trio – The Ricardo Gautreau Trio offers a refreshing blend of rock, Latin and jazz that is beyond category. Band members include Ricardo Gautreau, vocals and guitar; Doug Munro, lead guitar; and Ariel de la Portilla, bass. Ricardo's songs have won commendations from the Billboard Magazine competition and have been published in Sing Out! magazine.
Friday, July 31
Teri Lamar and New Company – Voted "Westchester's Friendliest Band" by More Sugar Magazine, Teri Lamar and New Company's musical versatility ranges from smooth jazz and rock n roll to Motown and R&B. Band members include Teri Lamar, lead and background vocals; Jamie Bannon, guitar, lead and background vocals; and Frank Brenna, keyboard, bass, lead and background vocals.
Friday, August 14
KJ Denhert – Consistently praised for her pathos, originality and impeccable musicianship, Ossining's own KJ Denhert moves audiences to laugh, dance and even to cry. Her special blend of urban folk and jazz has earned her four Independent Music Award nominations and, in 2009, a spot as one of Jazz.com's top female vocalists.
Friday, August 21
Old Mill Singers – The Old Mill Singers have been entertaining Westchester audiences for more than 40 years. Conducted by Danny Gray, an internationally honored film and concert composer, the popular community choral group is based in Ossining and covers a variety of musical genres.
For information on the Friday Night Concert Series or other upcoming events in the Village of Ossining, contact the Ossining Recreation & Parks Department at 914-941-3189 or visit http://www.villageofossining.org.
About the Village of Ossining
On April 2, 1813, the Village of Ossining became the first incorporated village in Westchester County to be state-chartered. Today, Ossining is a culturally diverse, affordable place to live, rich in both history and natural beauty. Approximately 25,600 people reside in the three and one half square miles of this historic Village on the Hudson River, which boasts extensive shopping, recreational programs, educational enrichment opportunities, and excellent municipal services. Ossining's role in New York's heritage has been recognized by its inclusion, as one of only 14 areas, in an Urban Cultural Park System designed to attract visitors to the State. Visit http://www.villageofossining.org for more information.