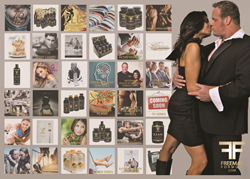 Boca Raton FL (PRWEB) June 12, 2015
Freeman Formula, a company dedicated to producing high-quality nutritional products for anyone with ambitious fitness and health goals, announced the start of its Super Dad Photo Contest on Facebook.
The goal of the contest is to recognize dads who have dedicated themselves to being great role models for their children and to helping children become the best they can be. With Father's Day just around the corner, it is a fun and unique chance to give fathers across the country the recognition they deserve for being such a positive influence on their children's lives.
"Superheroes are huge right now in kid culture, but to a lot of children, the first superhero they ever encounter is their father," said Kim Freeman, owner and co-founder of Freeman Formula. "This contest is our way of showing some appreciation to these outstanding men for what they do every single day to raise and support their children in a healthy, positive environment."
Anyone interested in entering the Super Dad Photo Contest can "like" the Freeman Formula page on Facebook (https://www.facebook.com/FreemanFormulaOfficial) and then post a picture of the dad in question. It could be a selfie, a posed picture or an action shot. Then, leave a comment explaining what makes the dad so super. Be sure to use the hashtag #freemansuperdad to make sure your photo gets seen. Only one unique post will be counted per day across all social networks.
The contest will end just before Father's Day. The winner of the contest will receive a Freeman Formula High Frequency Superfood gift back, stocked with a case of Upgrade and plenty of other goodies to help you or your dad to continue to be super.
"We can't wait to see the photos that people send in and to hear all of the incredible stories people have about their fathers," said Freeman. "The clock is already ticking, so choose your photo and get it in today."
To learn more about Freeman Formula and its products, visit http://www.freemanformula.com.