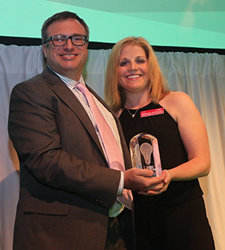 (PRWEB) June 12, 2015
June, 2015, Chicago, IL – The 2015 LINK Luminary Award was presented to ClinLogica Inc for their ClinLogica Oversight™ software at 2015 Home Care & Hospice LINK Conference.
"The goal of the LINK Luminary Competition was to highlight suppliers who are thinking outside of the box and developing leading-edge, innovative products or services that help Home Care providers deliver a higher quality of care," said Meredith Anastasio, Managing Director of Home Care & Hospice LINK. "Out of the six Luminary finalists ClinLogica Oversight™ was chosen by both our esteemed judges, and audience, as the product that is not only unique and innovative but one that will have impact on the industry."
ClinLogica Oversight™ is uniquely positioned as the LTPAC provider's clinical solution to succeeding in the shared-risk/value-based landscape. Applying clinical data intelligence to real-time EMR patient data, ClinLogica Oversight™ delivers actionable information to practitioners in the form of three main components: adverse event risk mitigation, adverse drug event mitigation, and information sharing.
About LINK
The Home Care & Hospice LINK Conference brings together provider and supplier companies within the segment for two and half days of innovative thinking, one-on-one meetings and networking.
The 2016 LINK Conference is being held June 8-10 at the Sheraton Chicago. http://www.hclinkconference.com
-###-