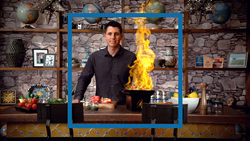 Hydrogen tapped into what truly makes Heritage Bank different," said Shaun Carson for Heritage Bank.
Seattle WA (PRWEB) June 12, 2015
Puget Sound based Heritage Bank is launching a new multimedia advertising campaign this week to highlight its business banking prowess.
The integrated campaign rallies both customers and employees around the theme, "What's your heritage?" Regional television, radio, print, digital and in-branch signage feature business customer stories that showcase how a person's unique influences shape who he or she is today. In addition to the customer-facing campaign, Hydrogen created an internal launch program featuring bank employees from branches throughout the bank's footprint.
"Each and every one of us is an original," said Hydrogen executive creative director Mary Knight. "Our new campaign for Heritage Bank celebrates the differences that ultimately make us stronger as a community–both as neighbors and, for Heritage, as a family of bankers," she added.
Shaun Carson, vice president, marketing officer at Heritage Bank believes the campaign will motivate customers and resonate with bank employees. "Hydrogen tapped into what truly makes Heritage Bank different," commented Carson. "We believe that by sharing the best ideas from all of our bankers, our customers get the benefits of combined thinking." It's an idea Hydrogen summed up as "More than community bank. But rather, a community of banks."
About Hydrogen Advertising
Hydrogen, a full-service agency founded in 2001, is named after the simplest element in the universe. By harnessing the power of simplicity, our ideas are designed to leave an unforgettable impression on an audience as well as a company's bottom line. Local, regional and international clients include Keysight Technologies, MultiCare Health System, Heritage Bank, The Polyclinic, Kenworth Truck Company, American Advertising Federation, Trammell Crow, Whole Foods and Windermere Real Estate. http://www.hydrogenadvertising.com