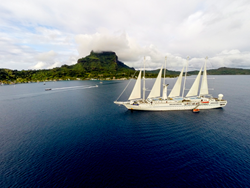 Sailing through the islands is the by far the most beautiful way to explore Tahiti, so it was the perfect fit to have the former Miss Tahiti help celebrate our Private Events in the region
Los Angeles, CA (PRWEB) June 11, 2015
Today Windstar Cruises announced their newest Private Event Host, former Miss Tahiti Mareva Georges, at an exclusive event on the roof of West Hollywood's newest hotspot, E.P. & L.P.
Mareva Georges, who grew up in the city of Punaauia, just outside of Papeete, the capital of French Polynesia, was crowned Miss Tahiti in 1990, and went on to be crowned Miss France in 1991. Today she is a Tahitian ambassador promoting Tahiti within the United States in addition to sitting on the council for Miss France and the jury of the Miss Tahiti Committee. She returns often to Tahiti to visit her family and to keep in touch with the roots of her native culture. Mareva will be onboard the August 17th Dreams of Tahiti voyage.
"We are thrilled to have Mareva as our Private Event Host in Tahiti," says Hans Birkholtz, CEO of Windstar Cruises. "Sailing through the islands is the by far the most beautiful way to explore Tahiti, so it was the perfect fit to have the former Miss Tahiti help celebrate our Private Events in the region."
Windstar also announced its new Take 10 Tahiti Sweepstakes at the event today. Starting on June 17 through July 19, Windstar is offering the chance to win a Tahitian cruise for one winner and nine close friends. Guests can enter online on http://www.windstarcruises.com/take-10-tahiti. After entering, guests receive a referral link to share with friends. The more friends who use that link to enter, the more entries they receive. The winner of the sweepstakes will be revealed on July 31.
In addition, the event celebrated the start of Windstar's year-round weekly voyages in the South Pacific, the first of which began June 5th, aboard the beautifully renovated, 148-passenger Wind Spirit sailing yacht.
Wind Spirit recently completed a 17-day dry dock in Panama, where its 73 staterooms were completely updated. The new staterooms include a transformed seating area for relaxing, as well as new cabinetry and a more open layout. Other updates to the ship include new teak decking, updated public bathrooms, and new pool furniture. The upgrades quickly follow up Windstar's $18 million, fleet-wide renovation project from 2012.
In attendance at the event were Hans Birkholz, CEO of Windstar Cruises; Steve Simao, Vice President of Travel Agency Sales; and representatives from Air Tahiti Nui and Tahiti Tourisme. The event was staged in a similar fashion to Windstar's Private Event on Bora Bora to give guests the feel of what it would be like to sail to the region with Windstar. Media and VIP guests were treated to cocktails such as the Windward Breeze (vodka, Kifer lime, and coconut, served in a cracked coconut), passed bites such as Soft Shell Crab Buns with pickled carrot, daikon, and spiced mayo, a traditional Tahiti dance performance, and details on the new sailings. At the end of the event Birkholz gave away a cruise for two to Tahiti to one lucky winner.
For a better look at Windstar in Tahiti, click here: http://tinyurl.com/WindstarTahiti.
About Windstar Cruises
Windstar Cruises operates a fleet of small luxury cruise ships known for its intimate yacht style experience and unique voyages to the world's best small ports and hidden harbors. Its six sailing yachts carry just 148 to 310 guests and cruise to 50 nations, calling at 150 ports throughout Europe, the South Pacific, the Caribbean, and Central America. Windstar was recently named Condé Nast Traveler's #1 small ship cruise line in the world. For more information including rates and itineraries, contact a travel professional or call Windstar at 800.258.7245, or visit http://www.windstarcruises.com.
About E.P. & L.P.
E.P. & L.P. is a modern multi-level Asian Eating House and rooftop deck that is integrated with Southern California's seasonal produce from Executive Chef Louis Tikaram, awarded Australia's prestigious 2014 Josephine Pignolet Young Chef of the Year. E.P. Asian Eating House will showcase contemporary Southeast Asian cuisine while the upstairs L.P. Rooftop will serve as a welcoming setting for al fresco dining until late and handcraft cocktails by Bartender Alex Straus set against a backdrop touting breathtaking views of the Hollywood Hills. Adjacent to L.P. sits Frankie's private bar, an intimate venue for private gatherings with a bespoke handcrafted cocktail program. The concept is developed by Australian restaurateurs David Combes and Grant Smillie of Botanical Hospitality and designed by Aussie-based Projects of Imagination. Situated along the bustling corner of Melrose Ave. and La Cienega Blvd, the two-story restaurant is located at 603 N. La Cienega Blvd., Los Angeles. Phone: 310-855-9955.
###