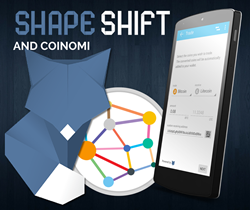 Switzerland (PRWEB) June 17, 2015
ShapeShift.io, an instant Bitcoin and altcoin exchange service, has announced their API integration with Coinomi, a free, open-source wallet for Bitcoin and multiple crypto-currencies, available as an Android application. The ShapeShift API integration allows Coinomi wallet users to quickly convert between each supported altcoin within the wallet without the user having to leave the Android application.
The Coinomi wallet currently supports Dogecoin, Litecoin and Bitcoin, as well as many other major cryptocurrencies. Only available as an Android app, Coinomi plans to release their IOS app version within the next few months.
"We are very excited about this API integration as for the first time users holding more than one coin in their wallet will be able to seamlessly convert from one coin to another without having to leave their wallet app but also to spend their altcoins where only bitcoin payments are accepted without having to manually convert their coins," said Coinomi Founder & CEO George Kimionis.
Developed to be primarily used as an API, ShapeShift's integration with Coinomi's wallet is just one of many the instant altcoin exchange hopes to support.
"From the start Coinomi has always been the most used mobile wallet in our office because of its multi-coin capability and so we are very excited for this partnership," said ShapeShift COO, Jon. "Converting cryptocurrencies within the app itself has been a magical experience."
Outside of their API offering, ShapeShift offers a intuitive, user-friendly website exchange for direct consumer usage. For business interested in learning more about ShapeShift API integration, please contact emily(at)shapeshift(dot)io.
About ShapeShift.io
ShapeShift is how digital currency exchange should work. From start to finish users can convert digital currencies in seconds, with no account required. No emails or passwords. No lengthy sign­up process. No accounts. No bid and ask orders. No friction. ShapeShift's goal is to be the fastest, safest, and most convenient way to trade digital assets. See more at: https://shapeshift.io/new.html
About Coinomi:
Coinomi is a free, user-friendly, lightweight, secure, fast, reliable, open-source, universal HD Wallet for Bitcoin and other crypto-currencies, currently available for Android devices. The coins currently supported are: Bitcoin, Dogecoin, Litecoin, Peercoin, Dash, Monacoin, Digibyte, Reddcoin, NuBits, NuShares, Blackcoin, Feathercoin, Rubycoin, Digitalcoin and Cannacoin, with many more to come. For more information, visit: https://coinomi.com/