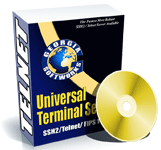 Phillip's skill set will be a great addition to the Georgia SoftWorks' team
Dawsonville, Georgia (PRWEB) June 16, 2015
Georgia SoftWorks, developer of the GSW Telnet Server for Windows and SSH Server for Windows, welcomes Phillip Blythe to the GSW Support Team. Blythe will be working in technical support, sales, system administration, marketing and more. He brings over 10 years of computer experience to the GSW Team.
"Phillip's skill set will be a great addition to the Georgia SoftWorks' team," said Doug Hitchcock of Georgia SoftWorks. "He has a strong sales and customer service background and also possesses computer knowledge and technical skills that will help him at GSW."
Blythe has an associate's degree in Business Administration from Georgia State University. He is CompTIA Network+ Certified, has experience with Java programing languages, building websites, building computer systems and more. He has also worked in retail management and sales where he was able to increase conversion averages, increase sales, produce store record dollar earnings and build a successful sales team.
"I am excited to learn the inner workings of Georgia SoftWorks and become an expert in the application and troubleshooting of the GSW products," said Blythe.
Georgia SoftWorks is a software development company that develops industrial quality software designed for the most rigorous commercial environments. GSW has gained its worldwide recognition from the development of the GSW Telnet Server for Windows and SSH Server for Windows. They have end users and resellers on every continent (except Antarctica) and operate in a variety of industries throughout the world.
About Georgia SoftWorks:
Established in 1991, Georgia SoftWorks is a privately held software development company recognized for creating high performance data communications, system and telecommunications applications. Georgia SoftWorks has obtained a worldwide presence with its industrial SSH/Telnet Server for Microsoft Windows. GSW's long-term commitment to SSH/Telnet has led to the pioneering of major features such as Session Shadowing, Session Monitoring, Graceful Termination, Automatic Logon, Logon Scripting and more recently Team Services technology which allows mobile device users to transfer, swap, share and recover mobile device sessions. GSW has also provided the very first SSH Server to provide Digital Certificate Authentication with an Internet Information Server (IIS) like certificate-to-user.