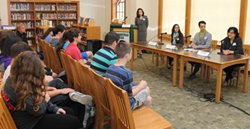 Yorktown Heights, N.Y. and Pleasantville, N.Y. (PRWEB) June 13, 2015
United Way of Westchester and Putnam (UWWP) are proud to announce the second annual "Voices for 2-1-1" public service announcement (PSA) contest winners. United Ways in Westchester, Rockland and Putnam partnered with County Executives Robert P. Astorino and MaryEllen Odell in challenging area high school students to participate in this unique educational contest, which offered the opportunity to further develop students' communication skills by creating a 60-second written or video PSA focusing on United Way's 2-1-1 helpline.
Putnam/Northern Westchester BOCES student Anna Burholt, of Croton on the Hudson, won first place for her video submission; Youth Theatre Interactions student Sydnie Heslop, of Mount Vernon, won second; and Lauren Salvatore, of Yorktown Heights, was awarded third. Somers High School student Molly Neylan, of Yorktown Heights, won first place for her radio script submission; and two teams of Haldane Central High School students, were awarded second and third places for their radio script submissions.
As part of the contest, the schools with the most applicants – BOCES and Pleasantville High school – were given the opportunity to host a communications-based career day, featuring contest judges including Marissa Brett, president of the Westchester County Association; Lanning Taliaferro, associate regional director of Patch.com; Stacey Cohen, president and CEO, Co-Communications, Inc., and Sue Guzman, news anchor and Westchester Bureau Chief for 100.7 WHUD radio.
More than 50 students, teachers and administrators from BOCES hosted UWWP's 2-1-1 Career Day at The BOCES Tech Center in Yorktown Heights May 26, where Burholt and Salvatore were awarded their honors. A second career day, with 30 additional students including a television production class of students with autism, was hosted at Pleasantville High School June 4.
During these panels, the judges emphasized the importance of going the extra mile and obtaining internships during both high school and college. Four main competencies, including strategy, creativity, flexibility, and strength in execution, were identified as the most important keys to success in the field of communications.
"It's moving to experience the students' creative work and witness their excitement at sharing their talents to help the community," said Alana Sweeny, president and CEO of United Way of Westchester and Putnam. "The student videos will be used throughout the year to promote the 2-1-1 helpline."
Launched in 2005, United Way's 2-1-1 is a free, confidential, multilingual helpline that provides millions of people each year with health and human services information, referrals, crisis support and disaster recovery information.
The Westchester shopping mall in White Plains was the awards sponsor, which provided first ($100), second ($75) and third ($50) place cash prizes to the winners. WHUD 100.7 was the media sponsor, and Westchester County and Putnam County were supporters.