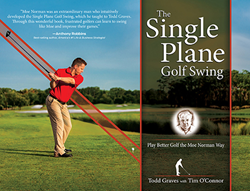 Dallas, Texas (PRWEB) June 12, 2015
In his book, The Single Plan Golf Swing: Play Better Golf the Moe Norman Way (Brown Books Publishing Group), professional golfer and author Todd Graves identifies how the same repetitive swing can cause back injuries as golfers age, and offers a safe and winning solution. Graves shares a proven technique that can elevate any golfer's game while preserving long-term back health, therefore keeping golfers on the links longer as they age. Golfers at any age who are striving to improve, stay healthy and enjoy the game even more, will find that The Single Plane Golf Swing teaches principles of the swing that have winning personal benefits both on and off the course.
Graves is a student of golf legend Moe Norman, also known as "Pipeline Moe," for his perfect accuracy and straight shot. After meeting Norman in 1994 and learning his technique, Graves adopted the Single Plane Swing and teaches it at his golf academies around the world.
"Tour players including Ben Hogan, Vijay Singh, Tiger Woods, Lee Trevino, and others have always made reference to Moe and his incredible ball-striking ability," said Graves. "Moe spent his life mostly in obscurity until he was featured on the cover of the December 1995 Golf Digest. Moe then became widely known as the 'Rainman of Golf' in golf circles."
Many professional golfers admire Norman and attribute their success to his swing. Based on Norman's philosophy, the Single Plane Swing is becoming a popular alternative for frustrated golfers who are not only interested in lowering their handicap, but increasing their years of play and lowering their scores.
Illustrated with more than 300 photographs and written with Tim O'Connor, Norman's biographer, the book also engagingly tells Norman's bittersweet life story and explores the teacher-student bond forged between Norman and his protégé Graves.
"As I teach this swing around the world, I see golfers of all ages begin to understand how much more fun it makes the game to play when they can see tangible results not only in their back health, but in their lower scores," said Graves.
For more information and to purchase The Single Plane Golf Swing in time for Father's Day, please visit http://www.moenormangolf.com.
###
For media inquiries, contact Cathy Williams or Gavin Rhoades at 972-248-9500 or cathy.williams(at)brownbooks(dot)com or gavin.rhoades(at)brownbooks(dot)com.