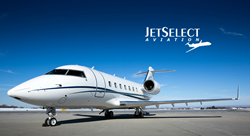 Jeremy Bogle, Executive Vice President for JetSelect Aviation said today, "We have been fortunate to have the New York market be so successful in the past several years.
Teterboro, NJ (PRWEB) June 15, 2015
JetSelect Aviation, LLC, an International Private Jet Charter Service Provider, announced today that it has added a Bombardier Challenger 604 and three Bombardier Challenger 300s to its fleet of private jets for on-demand charter; these jets will be based at the Teterboro Airport (KTEB) in Teterboro, NJ, the Westchester County Airport (KHPN) in White Plains, NY, and at the Port Columbus Airport (KCMH) in Columbus, OH.
These Bombardier Challenger 300s and 604 will seat 8 - 10 passengers. Each aircraft is luxuriously appointed with fresh paint, newly refurbished interiors, full galleys, and unlimited complimentary WiFi. Challenger, as a brand, has become synonymous with speed and luxury. With a range of 3000 - 5000 miles these jets will put the entire United States, the Caribbean Islands, Mexico, Central America, and Europe within reach from their Northeast and Midwest bases.
Jeremy Bogle, Executive Vice President for JetSelect Aviation said today, "We have been fortunate to have the New York market be so successful in the past several years. This addition of a Challenger 604 and a Challenger 300 brings us to a total of 5 aircraft based in the area. Combined with the existing aircraft we have based in Teterboro we are extremely well positioned to serve our customers for any mission."
Robert Austin, CEO for JetSelect Aviation added, "It is always exciting to announce an addition to our fleet. Internally, it motivates our team by providing much needed charter resources to offer our growing client base while externally it makes a loud statement that JetSelect Aviation is doing something right with their Aircraft Management program. "
JetSelect, LLC d.b.a. JetSelect Aviation offers Private Aircraft Charter, Private Aircraft Management and Private Aircraft Maintenance with operations conducted under Title 14 CFR Part 91, 135, and 145. FAA approved certificate #U5QA550L. JetSelect Aviation is a US and International Private Jet Charter Provider. http://www.jetselectaviation.com