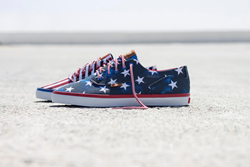 Patriotic and edgy, this limited edition Fall 2015 Axel in USA Dye is only around for a very limited time.
Orange County, California (PRWEB) June 15, 2015
Radii Footwear presents urban styled footwear for your Fourth of July celebration. Patriotic and edgy, this limited edition Fall 2015 Axel in USA Dye is only around for a very limited time.
The individually unique shoes, which feature a distinct mismatched style, showcase stars on one foot and stripes on the other with tie die over the red and blue elements. The design is complemented with two-tone rope laces. The shoes are made from ballistic nylon, sit on a vulcanized outsole and are lined with the exclusive 'Cloud 9' insole for maximum comfort – a feature Radii Footwear fans have come to expect from the brand.
Like the standard Axel, this special edition style will be priced at $65 per pair and will be available in sizes 5-15 through various vendors. Customers may also purchase accessories, including hats and socks, to complete their celebratory look on Radii's website.
These shoes are on sale now and are expected to begin shipping by June 20, 2015. The design is highly limited, just 300 pairs, and will not be restocked once sold out. Customers are encouraged to place their orders online as soon as possible in order to guarantee inventory and timely arrival.
This new design comes right after the release of Radii Footwear's Define Yourself campaign that celebrates the individual styles of their designers and fans. Radii Footwear aims for customers to be empowered by individuality and unique styles.
About Radii Footwear
Headquartered in Southern California, Radii (ray-dee-eye) Footwear brings an unbridled passion for art and couture to the world of sneakers and high-end footwear.
Launched in 2008, Radii, defined as a range of influence, set forth to show there is no limit to fashion, creative styling, and opportunity. Radii Footwear's goal is to exceed the expectations of the current consumer climate by offering quality products, creative concepts, comfort and value. Radii Footwear's creative team thrives off the principles of functionality and fashion forward ingenuity. From futuristic designs and materials, to classic styling and detailing, each shoe exudes confidence for the ambitious forward- thinkers of the world. Learn more at http://www.radiifootwear.com/.