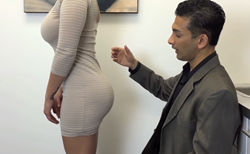 The 'Mommy Makeover' is evolving with new procedures.
Beverly Hills, CA (PRWEB) June 12, 2015
Dr. Dennis Dass, known for beautiful results with the Brazilian Butt Lift, breast augmentation with "Gummy Bear" implants and body contouring will appear on Fox 11 Morning News Santa Barbara July 9 to show the most popular cosmetic surgery procedures to help busy moms or any woman to look better than ever.
"Many women seek to refine their body contours after having children," says Dr. Dass. "While the concept of the 'Mommy Makeover' has been around for quite some time, the types of procedures in demand are evolving. Many women are choosing to have less invasive procedures such as a 'short scar' tummy tuck' or 'Gummy Bear' breast augmentation designed to provide a more natural look. And while the breasts and abdomen have been the main areas of concern for women undergoing body makeovers, women are increasingly shifting their focus to the buttocks. Having an ample, well contoured rear has become a fashion statement," says Dr. Dass.
"The Brazilian Butt Lift adds contour and projection to the buttocks by using the patients own unwanted fat, taken from areas such as the abdomen or 'love handles' without the need for implants," says Dr. Dass. "The woman's waist is sculpted using liposuction to accentuate her results and create attractive contours in proportion with her entire body." Dr. Dass shows a patient's results in this video: https://www.youtube.com/watch?v=cm0k_RIHujY
"Gummy Bear breast implants have become an  extremely popular choice for breast augmentation," says Dr. Dass. "Gummy Bears, which are made of a soft, cohesive gel that holds its shape have been available in the US for several years and the demand has only increased. Many patients choose 'Gummy Bears' because they provide natural-looking results with a soft, more natural feel."
For more information on the Brazilian Butt Lift, Gummy Bear Implants or mom's makeovers in the Beverly Hills and Los Angeles areas visit http://www.DassMD.com and call (855) 496-4646.