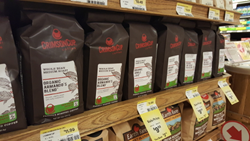 We are excited to expand a great Columbus-born brand like Crimson Cup Coffee & Tea coffees into our Cleveland, Akron and Dayton-area stores! - Amanda Arnet, Earth Fare Marketing Manager
Columbus, Ohio (PRWEB) June 12, 2015
Columbus coffee roaster Crimson Cup Coffee & Tea has increased distribution of its hand-roasted coffees through four Earth Fare organic and natural grocery stores in the Akron, Cleveland, Columbus and Dayton metropolitan areas.
"Earth Fare's mission is to help you put the best possible food in your body, and we're supplying organic coffees that align with this mission," said Crimson Cup Founder and President Greg Ubert. Initial organic selections include Organic Armando's Blend, Organic Jungle Love, Organic Flowing Amazon and Organic SWP Decaf Peru.
"Earth Fare is proud to carry local and artisanal products on our shelves for our customers on a daily basis," said Marketing Manager Amanda Arnet. "We are excited to expand a great Columbus-born brand like Crimson Cup Coffee & Tea coffees into our Cleveland, Akron and Dayton-area stores!"
Organic Armando's Blend is Crimson Cup's best-selling blend of beans from Central America, Indonesia and Africa. A perfect medium roast, it is slightly sweet with a nutty undertone.
Organic Jungle Love is a dark roasted coffee with notes of dark chocolate and black currants. It displays a heavy, syrupy body and long smoky finish.
Organic Flowing Amazon is a lightly roasted coffee that produces a smooth blended cup with a sweet aftertaste.
Organic SWP Decaf Peru is a lightly roasted coffee with a buttery mouth feel and citrus acidity. It produces a well-balanced and clean cup with notes of semisweet chocolate and almond.
"In addition to bags of coffee beans, we will also have a rotating selection of coffee available in bulk bins, beginning with our Nicaraguan Matagalpa Fair Trade Organic Estate coffee," Ubert said. This lightly roasted coffee has a medium body with nice citrus acidity and features semisweet chocolate flavors with notes of vanilla and caramel.
Crimson Cup supplies grocers with more than 50 varieties of handcrafted specialty coffee, including organic, Fair Trade and directly-sourced offerings from small farms in the world's finest coffee-growing regions. The company is dedicated to showcasing the hard work of small coffee farmers and ensuring that they receive a fair share of the proceeds from sales of the beans they grow.
In addition to weekly delivery, Crimson Cup provides distinctive displays and marketing materials for attractive and effective in-store merchandising. The company also supports grocers with promotional strategies tailored to the interests of their consumers and their communities.
ABOUT CRIMSON CUP COFFEE & TEA
Since 1991, Crimson Cup Coffee & Tea has hand-roasted specialty coffee in Columbus, Ohio and taught independent business owners how to be successful through its coffee shop franchise alternative program, which includes a coffee shop business plan template. Sustainably sourced Crimson Cup coffee is available through a network of more than 350 independent coffee houses, grocers, college and universities, restaurants and food service operations across 29 states, as well as the company's own Crimson Cup Coffee House in the Columbus suburb of Clintonville. For more information, visit crimsoncup.com.
ABOUT EARTH FARE
Founded in 1975 in Asheville, North Carolina, Earth Fare is the authentic specialty organic and natural healthy grocery store with 36 stores across the Southeast, mid-Atlantic and Midwest. Their full-service philosophy incorporates the highest food Quality Standards in the industry with compelling value, friendly and knowledgeable service, and superior shopping experience. Earth Fare. Healthy food for everyone.