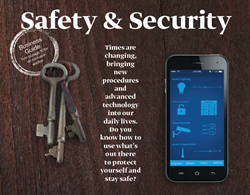 New York, NY (PRWEB) June 12, 2015
This June, for National Safety Month and Internet Safety Month, Mediaplanet is raising awareness on how to take a proactive approach to preparing for the unexpected.
The print component of "Safety & Security" is distributed within this weekend's edition of USA Today in New York, Chicago, Los Angeles, Dallas, Philadelphia, Detroit, Atlanta and South Florida, with a circulation of approximately 450,000 copies and an estimated readership of 1.3 million. The digital component is distributed nationally, through a vast social media strategy, and across a network of top news sites and partner outlets. To explore the digital version of the campaign, click here.
This edition of "Safety & Security" was made possible with the support of the National Safety Council (NSC), National Cyber Security Alliance (NCSA), National Crime Prevention Council (NCPC), American Association of Poison Control Centers (AAPCC), American Cleaning Institute (ACI), Z-Wave Alliance, Gatorade, SafeWise, IKEA, Pop-A-Lock and many more.
About Mediaplanet
Mediaplanet is the leading independent publisher of content-marketing campaigns covering a variety of topics and industries. We turn consumer interest into action by providing readers with motivational editorial, pairing it with relevant advertisers and distributing it within top newspapers and online platforms around the world.