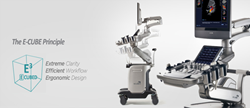 Technology is only meaningful when it delivers value to customers. That is the driving force behind ALPINION developing innovative technology and products. - Mr. Seokbin Ko CEO & President of ALPINION
St. Cloud, Florida (PRWEB) July 01, 2015
On Friday, June 5th, U.S.-based ultrasound repair and sales company SonoDepot announced a new ultrasound product line and service that could be a game-changer for healthcare providers who are feeling the burden of the Affordable Care Act. The official announcement and introduction of the Alpinion E-CUBE ultrasound product line was made by Jack McAuliffe, CEO and Floyd McAuliffe, Founder & President at the premier Association for the Advancement of Medical Instrumentation (AAMI) Conference & Expo in Denver, Colorado.
SonoDepot is the exclusive distributor and service provider for Alpinion in 3 U.S. markets: Florida, Colorado and Western North & South Carolina.
Although the Alpinion brand may not yet be well known in the U.S., the South Korea-based company has a global presence that is growing. Its recent line of E-CUBE ultrasound systems and transducers is transforming the field of diagnostic ultrasound with its single crystal technology and unique software architecture. And for U.S. healthcare providers, Alpinion ultrasound systems are a great value compared to their major brand counterparts.
Alpinion Medical Systems was established in 2007 as a true value innovator in the imaging technology field for diagnostic ultrasound imaging systems. The company's cutting edge technology encompasses all array types of transducers including the world's first Single Crystal volume convex transducer. Since that time, they have launched the E-CUBE ultrasound product line.
The E-CUBE name stands for Extreme Clarity, Efficient Workflow and Ergonomic Design. Its advanced transducer portfolio is enhanced by Alpinion's unique single crystal acoustic technology.
With fundamentally excellent image performance, Alpinion continuously strives to lead the medical device industry in developing not simply diagnostic ultrasound but therapeutic ultrasound.
About SonoDepot
Floyd McAuliffe, Founder and President along with his brother Jack McAuliffe, CEO, are the owners of SonoDepot and trailblazers of OEM-Independent Ultrasound Support providing superior service to healthcare providers in the U.S. since 1985. SonoDepot, based in Central Florida, is an exclusive sales and service provider for the revolutionary Alpinion Ultrasound product line featuring E-CUBE. The company also proudly repairs, services and sells the industry's most respected brands including GE, Philips, HP, and Siemens. SonoDepot's services include ultrasound repair, transducer repair, probe evaluation and maintenance. They are retailers of both new and refurbished ultrasound systems. With a rapid 15-30 minute response time and 24/7 nationwide service, SonoDepot is keenly focused on customer service. In fact, 90% of SonoDepot's ultrasound repair clients are repeat customers who refer colleagues.
For more information on SonoDepot and its products and services visit http://www.ultrasoundrepair.com