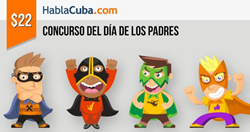 Excelente. En lmi opinión ha sido un servicio de gran calidad respecto al precio, siempre recibo vía email las ofertas de cubacel y podemos estar comunicados con nuestros seres queridos en Cuba. (Rossana Poleo on Trustpilot.com)
Atlanta, Georgia (PRWEB) June 14, 2015
Three great offers and a lot of fun are now available for Cubans worldwide with HablaCuba.com. Before Father's Day, all Cuban expats are invited to choose one of the offers and special giveaways on HablaCuba.com, up to 31 free minutes and discounted top ups for mobiles in Cuba:
>> $2 Voice Credit with coupon DADDY2 for free calls to Cuba landlines or mobiles.
The coupon is valid until June 18 and should be used in the checkout process on HablaCuba.com. The $2 credit is a Bonus applied to a Voice Credit order on Hablacuba.com made until June 18.
>> 5% discount on all mobile top ups to Cuba on HablaCuba.com until June 18.
>> 31 minutes prize to call landlines and mobiles in Cuba or a $22 top up of a Cubacel mobile for the winners of the Facebook competition. The Facebook contest organized by HablaCuba.com is running between June 15-18 here: https://www.facebook.com/HablaCuba .
Anyone holding an account on HablaCuba.com can get $2 free Voice Credit using coupon DADDY2. The credit can be used for calls to Cuba; the coupon DADDY2 should be used in the checkout, while placing an order on http://hablacuba.com/buy/voice .
The 5% discount on international top ups to Cubacel mobiles applies when using coupon DADDY5 in the checkout process while placing an order on http://hablacuba.com/buy/mobile_recharge.
3 Facebook prizes of $22 each are awarded on Friday, June 19, 2015. The prizes worth of $22 each can be used:
-to talk to Cuba for 31 minutes (landlines and mobiles)
-or for one international top up of a Cubacel mobile.
To enter the contest one needs to share the Superhero Dad quiz on his/her Timeline.
The Facebook contest is funny and quite simple and requires participants to share a Superhero dad quiz, after having taken it themselves. The contest runs between June 15 - 18, 2015 and winners will be selected randomly, so everyone sharing the post has equal chances to get $22 to call or top up a mobile in Cuba.
To benefit from any of these offers, one needs to hold a free account on HablaCuba.com or be a Facebook fan of HablaCuba. Coupons DADDY2 and DADDY5 serve when placing an order on HablaCuba.com and are valid between June 16-18.
For those not familiar with HablaCuba.com, existing customers point out various benefits on review websites:
-No costs to create an account
-Lowest rates on calls on the global market
-Best deals on international top ups to Cuba and other countries
-Easy to order, easy to call
-Paypal and all major payment methods accepted, no matter the currency
-Regular promotions
-Voice Credit balance never expires
-KeepCalling app for international calls
-High privacy protection (TRUSTe label)
-100% security of transactions (Verified & Secured certificate)
-Transparency of service and no hidden fees (BBB accredited)
-100% Customer Satisfaction and 24/7 honest and friendly Support (BBB label)
-Invoices and activity log available at any time in the online account
-Mobile friendly website
-Easy to use service
About HablaCuba.com:
HablaCuba.com is an interactive website designed by KeepCalling, a global telecommunications company registered in 2002 in USA. Presently, KeepCalling provides its services to hundreds of thousands of consumers and businesses, with a focus on customer satisfaction. KeepCalling has been listed by Inc 5000 in top 20 telecom companies in the USA for the last 4 years. In 2014 the company was designated the 18th fastest growing company in the telecommunications industry in USA with a revenue increase of over 600% from 2010 to 2013.