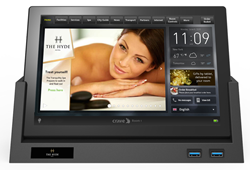 We've been at the leading edge of in-room tablet technology in the UK for several years now, but with a number of major recent signings in the US, this show is the perfect place to introduce the Crave T2 to the world
(PRWEB UK) 12 June 2015
Crave Interactive, the UK market leader in in-room tablet and app-based solutions for hotels, will be launching its Crave T2 at HITEC 2015, the world's biggest hospitality technology show, held in Austin, Texas from June 15-18.
"We're delighted to be launching the new tablet at HITEC," said Crave Commercial Director Tim Butterworth. "We've been at the leading edge of in-room tablet technology in the UK for several years now, but with a number of major recent signings in the US, this show is the perfect place to introduce the Crave T2 to the world."
The new version of Crave's sleek, superfast tablet comes preloaded with Crave OS, Crave's proprietary operating system created specifically for the hospitality industry, and includes an entirely new docking station tailored for use in hotel bedrooms.
According to Crave CEO, Gareth Hughes, working directly with a manufacturing partner has enabled the company to develop unique hospitality features unavailable in other general market tablets.
"Our long experience with hotels has enabled us to create a tablet specifically designed for use in hotel rooms. We've stripped out the camera, HDMI, and external storage capabilities and all the other features inappropriate for guest use in a hotel setting, and created a docking and charging mechanism that was designed specifically with in-room power supply scenarios in mind," Hughes said, adding that working directly with a manufacturer had allowed Crave to deliver the tablets at a highly competitive price.
Crave's in-room tablets are currently installed in upmarket hotels across the United Kingdom, including the The Lanesborough in London, Cliveden House, and various other prestigious properties. The company has also recently confirmed several significant signings in the US.
Crave's remotely operated, cloud-based tablet solutions allow for instant in-room food and beverage ordering, spa bookings, and guest communications, instantly updateable digital directories and menus, and limitless scope for additional sales and tailored in-room advertising.
"In-room tablets are revolutionizing guest service in a way that will delight guests and increase hotel profits at the same time," said Tim Butterworth.
Crave Interactive will be showcasing the Crave T2 tablet at Booth 224 at HITEC 2015 at the Austin Convention Center in Austin, Texas from June 15 to June 18.
http://crave-hospitality.com/
http://www.hftp.org/explore-hitec/
/////
About Crave Interactive
Formed in 2009, UK-based Crave Interactive Ltd is a leading developer of guest-facing hotel tablets and app solutions, helping hotels provide great service via in-room tablets and guest-owned devices.
Crave is the European market leader, and its products and services are available worldwide.
Crave's services are powered by Crave Cloud, a sophisticated proprietary software platform that delivers excellent guest services via any device. To date over 1,000,000 items have been ordered via Crave Cloud.
Crave in-room tablets and apps provide a full range of guest services in a sleek and stylish manner. Crave solutions can replace paper Directories, and increase revenues of in-house services, such as spa treatments, restaurant bookings and merchandise sales. Nearly all guests engage with Crave in-room tablets, viewing an average of approximately 50 pages per guest night.
/////