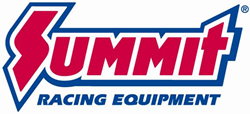 Tallamdge, OH (PRWEB) June 13, 2015
Don't hit the track—or the trail, the road trip, or tow a heavy load—without an Auto Meter Tire Pressure Gauge. Auto Meter has just revised the gauges to make them better than ever. Summit Racing offers several types:
Mechanical Analog Gauges
These gauges feature a durable mechanical pressure release valve that retains the last measurement until pressed, plus a large 2.25 inch dial with rubber shock boot to prevent erratic readings. The 13.75 inch stainless braided line and angled chuck makes it easy to use and view. Available in 0-40, 0-60, and 0-100 psi versions.
Auto Meter also makes a shorty-style 0-60 psi pressure gauge with a mechanical pressure release valve that is ideal for stashing in a glove box or portable tool kit.
Pro Comp Digital Gauge
The Pro Comp digital tire pressure gauge provides the most accurate measurement available in a durable package designed for the rigors of life at the track. It uses solid state electronics with signal conditioning circuitry for temperature and calibration compensation for high precision readings (+/-0.25%) and unrivalled reliability. Features include:

Measures in psi, BAR, or MPa
Range: 0-50 psi, 0-3.45 BAR, 0-0.345 MPa
Response Time: less than one millisecond
Button operated peak hold and zero calibration functions
Remote mechanical pressure release valve
Backlit LCD display
Automatic power down to conserve battery life
2.25 inch dial, 24 inch long stainless steel braided hose with swivel chuck
Uses nine volt battery
Summit Racing Equipment
http://www.SummitRacing.com
1-800-230-3030