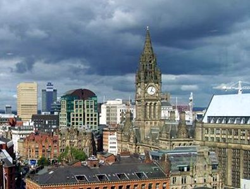 (PRWEB) June 13, 2015
"Manchester" was featured on NewsWatch as part of its monthly Biz Report, which takes a look small, medium, and large businesses making an impact in their industry. Andrew Tropeano, the host of NewsWatch and business expert, conducted the business review and shared with viewers how this digital hub, synonymous with innovation, is a place for creatives and experts to visit or expand their business internationally.
This UK city might be synonymous with the old world but it achieves that rare feat of also being synonymous with innovation. For over 250 years, Manchester has been a city of firsts. It's the city where the first stored-program computer was built and even where the atom was split. It literally has been on the cutting edge laying down historical brick by historical brick and is home to not 1, not 2 but 25 Nobel Prize winners.
With over 2.7 million citizens and over 200 languages spoken, Manchester continues to imbue that creative, pioneering spirit. As Europe's second largest creative digital hub, they've built places like Media City which is a creative and tech campus where creatives and experts from numerous different sectors can come together to change the world. They're also home to some major giants of both creative production and digital technology, companies like IBM, Cisco, Microsoft and Accenture. And they are leaders in e-commerce, complex data management, analytics, storage and distribution.
But beyond all that Manchester is just an amazing place to visit – with culture, restaurants, and a beautiful downtown. If planning a trip or are a business looking to expand internationally, put Manchester on the list and visit InvestInManchester.com today.
To learn more, visit http://www.InvestInManchester.com today.
About NewsWatch
NewsWatch is a weekly 30-minute consumer oriented television show that airs on the Discovery Channel and ION Network. NewsWatch regularly features top technology products and services, mobile applications for iOS, Android, and Windows devices, unique and beautiful travel destinations around the world, health and medical tips, and entertainment interviews on the show. NewsWatch airs on the Discovery Channel at 7:00 – 7:30 AM ET/PT.
NewsWatch is located in the greater Washington, DC area and has been on air for over 25 years. For more information or to watch the most recent episode, visit http://newswatchtv.com/biz-report.html