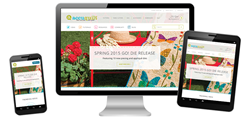 We wanted to create a place for quilters to not only share their creativity, but also to be able to interact with and learn from each other.
Omaha, NE (PRWEB) June 15, 2015
AccuQuilt has launched a new website that focuses on inspiration, education, and community. The new site will provide quilters and fabric crafters with a wealth of great content and enable them to easily share their creations and interact with others online.
One of the highlights of the new site is the Ideas page where quilters can share their projects and be inspired by what others have created. They can also choose the skill level and technique used for their project, making it easier for others to determine the ease or difficulty. To share projects and to comment on others' projects, users must be signed into accuquilt.com. The Ideas page replaces Quilter's Spotlight from their previous site.
"We wanted to create a place for quilters to not only share their creativity, but also to be able to interact with and learn from each other," said AccuQuilt Chief Energizing Officer, Steve Nabity.
The new site also features a Tutorials page where quilters can take their time and learn at their own pace. The tutorials have been categorized into three types: product, technique, and project, so users can easily access what they want to learn more about.
On the site's new Resources page, quilters can find answers to the most frequently asked questions, information on product care, and fabric cutter user guides. Additionally, they can learn more about AccuQuilt Designers, take a virtual tour of the AccuQuilt Gallery exhibits, and download product catalogs.
The AccuQuilt Blog, the #1 resource for fabric die cutting, has also been revamped in the new site. Here you'll find more in-depth information about products, projects, special events, quilting icons, and more. Further, the blog will regularly feature posts from an array of guest bloggers who will offer their expertise and tips and tricks.
For the best experience and to take advantage of all the website has to offer, users must be signed into the site. If they are not already a member of accuquilt.com, they can register to create a new account on the sign-in page.
About AccuQuilt—Better Cuts Make Better Quilts
Headquartered in Omaha, Neb., AccuQuilt offers quilters, fabric crafters and retailers a premiere line of fabric cutters, dies, quilting patterns and other quilt and fabric cutting solutions that help quilters quickly and accurately cut shapes for quilting and fabric crafts. AccuQuilt also offers quilters a wide variety of rich educational resources to enhance their quilting experiences. Cutting with AccuQuilt cutters is a natural evolution of fabric cutting methods. "First scissors…then rotary…finally…AccuQuilt" for fast, easy, accurate fabric cutting. For more information, visit accuquilt.com or call 888.258.7913.
# # #