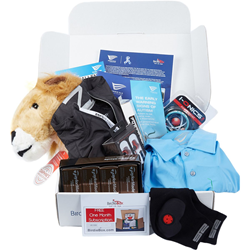 Having a partner who understands how to deliver quality consumer experiences but also values their societal responsibility to charities like Els for Autism sets Golfsmith apart.
Scottsdale, AZ (PRWEB) June 12, 2015
Els for Autism Father's Day Box Now Available on Golfsmith.com
Three Versions Available to Suit All Budgets, Proceeds Benefit Els for Autism Foundation
BirdieBox – the leading provider of curated golf and lifestyle products – announces that its Els for Autism Box, a limited-edition collection of golf related products associated with legendary Hall of Fame golfer, Ernie Els, is available in time for Father's Day on http://www.Golfsmith.com.
Featuring an extraordinary assortment of golf gear, the boxes are available at three price points (Platinum $249.95, Gold $149.95, Silver $79.95), each boasts a total value nearly double the retail cost. Among the items included are TaylorMade TOUR Preferred balls, special-edition "Els for Autism" Daphne's head cover, Els Collection polo, Zero Restriction outerwear, Stable 26 socks and an I-ONICS Power Sport band.
"Golfsmith is the premier source for golf equipment, clothing and accessories. Having a partner who understands how to deliver quality consumer experiences but also values their societal responsibility to charities like Els for Autism sets Golfsmith apart," says Pat DePirro, CEO of BirdieBox. "Autism affects millions of families worldwide and the power of the Golfsmith brand and well-known website will help raise funds for the Els for Autism Foundation through the sale of these special gift boxes."
A percentage of proceeds from the sale of each box will be donated to Els for Autism, the Foundation founded in 2009 by Els and his wife Liezl after their son Ben was diagnosed with the disorder. BirdieBox officially debuted the package during Autism Awareness Month in April and continues to offer it through Father's Day. More information is available at http://www.ElsforAutism.com.
"Golfsmith is excited to partner with BirdieBox in offering the limited edition Els for Autism Box, just in time for Father's Day. With the best customers in the industry, we are honored to be able to provide them the opportunity to contribute to the Els for Autism Foundation, as well as, strengthen our own commitment to giving back to our community," says Eli Getson, Executive Vice President of Golfsmith International. "We look forward to working together with BirdieBox and helping the many families affected by Autism every day."
About BirdieBox
Launched in January 2014, BirdieBox is an eCommerce platform with three core focuses. These include a monthly subscription service delivering a curated box of premium golf and lifestyle gear every month, a specialty box service commemorating major championships and holidays, and BirdieBox Events, a new and hassle-free way to source unforgettable tee-gifts for corporate, charity or country club outings and tournaments. The highly trained staff works closely with event organizers to create a truly unforgettable package. Adorned with a logo of the customer's choice, each finely-appointed, custom-curated assortment is hand-selected to match designated preferences and impress guests. The company is devoted to ensuring a positive and fun customer experience.
More information: http://www.BirdieBox.com. Get social: @BirdieBox.
About Golfsmith International
Golfsmith International, headquartered in Austin, TX, is the largest specialty golf retailer in the world. Operating under the Golfsmith brand in the United States and the Golf Town brand in Canada, Golfsmith International has over 150 experiential locations; in addition to convenient, 24/7 shopping at http://www.golfsmith.com and http://www.golftown.com. Golfsmith International features the broadest selection of the best brands in golf, expert staff who share its customers' love of the game, and state of the art custom fitting services and technology– truly Anything For Golf.
About Els for Autism
The Els for Autism Foundation was established in 2009 by Ernie and Liezl Els to focus on the issue of autism. The Els son Ben is profoundly impacted by the disorder, which affects 1 in 68 children in the U.S.
The Foundation's overarching mission is to helping people on the autism spectrum fulfill their potential to lead positive, productive and rewarding lives. In the U.S., to help fulfill its mission Els for Autism is currently building a state-of-the-art Center of Excellence in Jupiter, FL, on a 26 acre campus with a local, national and global reach and is in the middle of a capital campaign to finance the development. Once completed, the Center will host a uniquely designed, on-site educational program for 300 children on the autism spectrum ages 3-21 and bring together the critical components of early intervention, education, applied research, transition to adulthood, medical and professional services, and adult services all on one campus. Having all the essential components on one campus, with the integrated programing and continuity of service that this allows, will not only be a game-changer for the children in the local area, but positions the Center as the perfect hub for a global outreach program; that will ensure its influence is felt far beyond the boundaries of its walls.
Groundbreaking for the first components of the Center, the Lower School and the Auditorium Building, began in March 2014. The Lower School is on schedule to welcome its first students in August this year, and the Auditorium Building is also on track to become the new home of the Foundation this summer, enabling the team to further develop its global outreach programs using this magnificent, and fit-for-purpose building as its base. In the meantime, the Foundation continues its fundraising efforts to ensure a continuous build schedule for the remaining components of the Center; the Upper School, the sports facilities, the medical and professional building and the adult services component.
More information: http://www.ElsforAutism.com
Follow the Foundation at:Facebook: /ernieelsgolf Twitter: @elsforautism