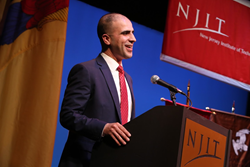 Newark, N.J. (PRWEB) June 15, 2015
Samer Hanini, of Newark and Jersey City, received an Alumni Achievement Award from New Jersey Institute of Technology (NJIT) on May 16, 2015.
Hanini oversees business development and construction management for his development firm, the Hanini Group, which has been deeply involved in the renaissance of Newark's downtown. Development projects include the RockPlaza Lofts on Market Street, a multiproperty project that includes nearly 80 rental apartments, convenience and specialty retail: Dinosaur BBQ, Chipotle, Marcato's Pizzeria and the Hotel Indigo. Formerly the First National Bank, the 108-room Hotel Indigo has been billed as the first boutique hotel in Newark, with Alva Restaurant on the first floor and the only rooftop lounge in the area.
The Hanini Group has won numerous engineering and design awards for their creative use of existing space and restoration of the historic beauty inherent in the buildings central to these developments. The firm's most notable project to date is the renovation of the former Hahne's department store, a 500,000-square-foot development that includes 180 residential lofts with Whole Foods and Rutgers University as anchor tenants.
Hanini graduated from NJIT in 1999 with a bachelor's degree in architecture. He also obtained a master's degree in infrastructure planning in 2003. An avid bicyclist with a passion for historic preservation, he serves as a trustee on the nonprofit Newark Preservation and Landmarks Committee, Newark Regional Business Partnership, and has served on NJIT's School of Management Board of Visitors.
The Alumni Association of NJIT advances the interests of the university and generates support through the development and implementation of programs, activities, and events for its alumni members and friends. The Association's goal is to facilitate success – in fostering NJIT pride, building Highlander traditions, helping alumni develop opportunities for the university's students, and acknowledging the accomplishments of NJIT graduates in our society. For more information, visit http://www.njit.edu/alumni/index.php
About NJIT
One of the nation's leading public technological universities, New Jersey Institute of Technology (NJIT) is a top-tier research university that prepares students to become leaders in the technology-dependent economy of the 21st century. NJIT's multidisciplinary curriculum and computing-intensive approach to education provide technological proficiency, business acumen and leadership skills. With an enrollment of more than 10,000 graduate and undergraduate students, NJIT offers small-campus intimacy with the resources of a major public research university. NJIT is a global leader in such fields as solar research, nanotechnology, resilient design, tissue engineering, and cyber-security, in addition to others. NJIT ranks fifth among U.S. polytechnic universities in research expenditures, topping $110 million, and is among the top 1 percent of public colleges and universities in return on educational investment, according to Payscale.com.