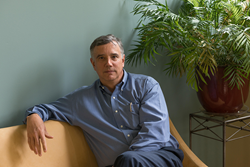 "Cambridge Biomedical's strength in bioanalytical assays and diagnostic testing is well known in the industry"
Boston, MA (PRWEB) June 15, 2015
Cambridge Biomedical announced that Board Member Brad Yount has been appointed President and Chief Operating Officer reporting to Barbara Osband, Chief Executive Officer.
"Brad is a seasoned leader with extensive experience in developing companies and driving them to the next level. Brad has provided his knowledge and expertise to Cambridge Biomedical as a board member since January, 2010. I have tremendous confidence that his inside knowledge of our operations combined with his management experience will further grow our company," said Barbara Osband, Chief Executive Officer.
Yount assumed responsibility in May for all operational areas in Cambridge Biomedical and is focused on improving operational efficiencies within the company as it positions itself for continuing double-digit growth.
"Cambridge Biomedical's strength in bioanalytical assays and diagnostic testing is well known in the industry," Yount, President and COO, commented, "and I am greatly energized to help lead this company with its team of highly experienced staff through its next phase of growth tied to operational excellence."
Prior to this appointment, Yount was responsible for the operations of several different companies in market research, architecture design and products, and speciality materials. Mr. Yount received a BS in Mechanical Engineering from Virginia Tech and a MBA from Northeastern University.
About Cambridge Biomedical
Cambridge Biomedical, based in Boston, Massachusetts, supports sponsors by developing customized assays for small and large molecules, biomarkers, and other critical analytes, along with validation and sample testing in our CLIA certified and CAP accredited, GLP/GCLP compliant facilities.
The Company has extensive expertise in technology transfer, assay development, optimization and validation. It also offers specific services in analytical support for PK/PD studies, biomarker development, clinical assay development, assay validation, specimen analysis, and testing services in support of clinical trial and drug or device development.
Our personalized project methodology, along with a focus on delivering quality results and regulatory submission ready documentation and rapid turnaround times, ensures we meet our client's product development timelines.