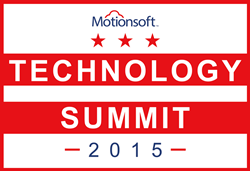 Our objective is to harness the best thinking and research on technology-releated topics in the heatlh and fitness industry.
Rockville, MD (PRWEB) June 18, 2015
The 2nd annual Motionsoft Technology Summit, the nation's premier technology event for executives in the health and fitness industry, is taking place in Washington, D.C., on September 22nd - 24th, bringing more sessions, speakers and opportunities to address business technology issues in the active lifestyle industry.
The Summit will feature Robin Thurston, former CEO and Co-Founder of MapMyFitness and currently Chief Digital Officer, Under Armour Connected Fitness as the event keynote. In addition, 25 thought leaders will address a broad range of topics including, among others, the convergence of healthcare and fitness, business intelligence, retention strategies, search optimization and member experience. In addition, Dr. Paul Bedford, Principle, Retention Guru, will deliver the much-anticipated North American Retention Study on the final day of the Summit.
"Our objective is harness the best thinking and research on technology-related topics in the health and fitness industry," noted Al Noshirvani, CEO, Motionsoft. "Our goal to provide fitness executives with innovative insights, networking opportunities, tips and techniques to continue to grow their own facilities and, our industry," added Noshirvani.
Major brands and industry leaders slated to attend the 2nd annual Summit include Under Armour, NetPulse, Equinox, MyZONE, Town Sports International, 24 Hour Fitness, H2 Wellness, Virgin Active, Goodlife Fitness, Heads Up Analytics, Genavix Wellness Network, Kineviz, Clarabridge, 10 Pearls, Retention Guru, University of Maryland, and George Washington University among many others.
Event Details
The Motionsoft Technology Conference is a three-day event beginning on Tuesday, September 22nd and will concluded on September 24th at Fairmont Hotel in Washington, D.C., in the historic Georgetown neighborhood and waterfront. Health and fitness executive are encouraged to register for the Summit.
About Motionsoft
As a health and fitness software pioneer, Motionsoft is a trusted leader in Cloud-based gym management software and billing solutions. Motionsoft enables fitness operators to Get Them, Keep Them & Know Them™ with forward-thinking technologies to manage member, facility and payment processes. Motionsoft's customers include some of the fitness industry's preeminent brands and operators, including Equinox, Town Sports International, Gold's Gym, Active Sports Clubs as well as corporations, universities, hospitals, and hotels. Motionsoft also hosts the annual Motionsoft Technology Summit. You can learn more about Motionsoft by visiting http://www.motionsoft.net.