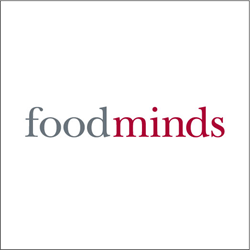 Chicago, IL (PRWEB) June 16, 2015
FoodMinds partner Bill Layden will share his science, policy and communications expertise with 700 leaders from across the food chain at the NutrEvent 2015 conference on June 17-18 in Lille, France. The conference focuses on the expansion of health-oriented innovation and business opportunities for the food industry globally. Layden is moderating the plenary session, "Balancing Taste, Nutrition, Cost and Use" and speaking on a panel that compares regulatory requirements for health claims among countries. The panels feature executives from BASF, Cargill, The Coca-Cola Company, DSM and McCain Foods, among other companies as well as NGOs, universities and government agencies.
"NutrEvent 2015 attracts global food industry professionals who are driving innovations that improve the food industry's contribution to nutrition, health and wellness," said Jose Cubillos, director of global business development. "FoodMinds is honored to take part in the reciprocal sharing of knowledge at this seminal event."
Layden's role at NutrEvent marks a significant juncture in the growth of FoodMinds' global footprint. Since 2010, FoodMinds has been conducting multi-country nutrition affairs-related projects for top food and beverage companies. The firm has developed a unique network of 30+ senior nutrition (PhDs and RDs) and communications experts called the FoodMinds Global ExpertBench™, located in 30 countries across six continents. Currently ranked the 85th PR agency in the world according to PRWeek's 2015 Global Agency Business Report, FoodMinds plans to expand its presence in new markets and with new services including Strategic Insights and Issues & Crisis Navigation.
In 2015, FoodMinds is implementing programs and projects in several countries in Europe, Latin America and Asia, with work commencing in other countries and regions by the end of the year. Client engagements include research to inform the establishment of nutrition profiling systems, audits of food company nutrition pledges, mapping of cross-cultural approaches to nutrition labeling, and assessments of nutrition, consumer and regulatory trends likely to impact business across Latin America (LATAM), Europe, Middle East and Africa (EMEA), Australia and Asia-Pacific (APAC) and North America and Mexico (NOAM).
Increasingly, the world of food and nutrition affairs knows no geographic boundaries, and FoodMinds is well-equipped to advance its clients' nutrition affairs and communications objectives both within and outside of the U.S.
ABOUT FOODMINDS
Founded in 2006, Chicago-based FoodMinds, LLC (http://www.foodminds.com) is a food and nutrition consulting company that is boldly transforming the world view of food, nutrition and health. We challenge the status quo to create breakthrough strategies, expertly navigating food and nutrition science, policy and communications to help our clients tell a better story. FoodMinds has 37 employees, including 15 registered dietitians, and a global network of more than 30 experts.
The winner of the 2013 Holmes Report Boutique Agency of the Year and the 2012 Gold SABRE award in the public affairs category, FoodMinds is ranked in the top 10 U.S. independent food and beverage public relations firms by O'Dwyer's. It was named a finalist for PRWeek's 2015 Small Agency of the Year award and was cited by the 2014 Holmes World PR Report as one of the 10 fastest-growing U.S. PR companies. In partnership with more than 30 leading food, beverage and nutrition clients in the U.S. and around the world, FoodMinds is actively shaping a new food frontier where people are healthier and happier.