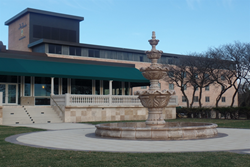 We've been honored with the chance to restore this property back to the way it was...It has meant so much to so many over the years....
Oak Brook, IL (PRWEB) June 15, 2015
The Drake Hotel Oak Brook plans to celebrate their debut with a Grand Opening party Thursday, June 25th at 5:30 PM. Located at 2301 York Road in Oak Brook, guests in attendance will be treated to live entertainment by singer Randy McAllister and the Cuba Big Band, complimentary hors d'oeuvres and an exclusive first look at the beautiful and iconic hotel in action.
Since the early 1960's, The Drake had stood as an integral part of the Oak Brook community, serving as a hotel and event space for locals, professionals, and prestigious guests from around the world before falling into disrepair. Seeing an opportunity to revive the town's longtime landmark to its former glory, Jim and Tely Nagle decided it was time to intervene.
The husband and wife team purchased the property in 2013 and have spent the last year and a half rigorously renovating it to meet the needs of modern life. In keeping with the hotel's crest "Ubi Tempus Quietus," which means "where time rests," they've managed to breathe fresh life into the 4 story, 10 acre property while keeping its heritage and classic touches firmly at heart.
"We've been honored with the chance to restore this property back to the way it was," says Jim. "It has meant so much to so many over the years, and now they'll get to relive old memories while making new."
The expansive estate epitomizes history set to a high standard, offering its guests 84 chicly renovated bedrooms with club-like amenities. From business conferences to weddings both intimate and elaborate, The Drake has 11,300 sq. ft. of flexible meeting space available to impress. Its soaring windows, natural light, luxurious European touches, and intrepid staff are dedicated to making every event a once-in-a-lifetime experience.
The on-site restaurant and bar is the perfect place to indulge in breakfast, brunch, High Tea, or dinner amidst an atmosphere that is both classic and modern. They've stripped all of the building's woodwork back to the original stain, restored the vintage dining chairs, and refreshed the Breakfast Room's grand mural depicting early American history—the same iconic mural that decorates rooms of the White House.
In addition to all the internal reworking, Jim and Tely chose to incorporate a few other modern touches to enhance the building's European feel. Richly tufted oversized furniture, custom art, and an opulent 1000-flower-piece sculpture add fresh drama to the scene, while the beautiful Terrace looks out over the property and golf course.
"We didn't have an outdoor element that really spoke to The Drake's past," said Jim. "But now we're opening up and giving our guests a breath of fresh air."
To experience the transformation firsthand and be a part of its new history, be sure to RSVP for the Grand Opening on June 25th.
For interviews, additional information or to RSVP for the event, please visit http://www.thedrakeoakbrookhotel.com or contact Nicki(at)veteranpr(dot)com.
About Veteran PR:
Rooted in the belief that hard work coupled with honesty and integrity is the key to any success, Veteran PR strives to help companies build their brand awareness through strategic and effective Public Relations Campaigns and Social Media Marketing Efforts. Veteran PR launched in 2015 after military veteran, Staff Sergeant Jason Thomas, teamed up with his wife and seasoned PR professional, Nicki Thomas. Together their vision is to help small businesses, especially veteran owned businesses, build their brand awareness with a PR Company business owners can trust.