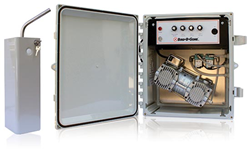 Irvine, CA (PRWEB) June 24, 2015
Bird B Gone, the leader in bird control products for commercial, industrial and residential applications is now offering a bird hazing system that unites a number of important features in an easy-to-use pest bird repellent system, one that's affordable, effective and humane; finally a bird hazing system that works.
Proven to disperse pest birds where other methods of bird control may be ineffective or impractical, Bird B Gone's bird-hazing system efficiently deploys a light vapor of EcoBird 4.0. This indoor/outdoor bird repellent is made with Methyl Anthranilate, a non-toxic, EPA approved food-grade ingredient. The active ingredient irritates a bird's mucous membranes. When pest birds fly through the fine vapor, they find the sensation unpleasant and will subsequently avoid the area. The effect is temporary and will not harm the birds.
The Bird B Gone® Bird Hazer features a 1-liter tank at each drop location, and uses far less liquid repellent than other hazing units. The deployed vapor has a particle size of less than one micron, so it stays airborne longer. The multi-head unit provides wide coverage. Each main unit controls up to six satellite units for full perimeter coverage of an area.  The plug-n-play unit is simple to install and operate. Setup consultation, support and an installation video are supplied with every unit. The unit's weatherproof design is backed by a full one-year manufacturer's warranty.
Bird Hazing is particularly effective in removing birds from large enclosed to open areas, such as docks, overhangs, warehouses, aircraft hangars and plant nurseries, as well as open areas like food courts and rooftops. It has been proven effective for even driving out small birds, especially sparrows. It also adds recurring revenue to a bird control business as the satellite canisters need to be refilled monthly.
Bird B Gone is the world's largest manufacturer and distributor of bird control products, providing effective and humane solutions to a bird-free environment. The company provides advice; training and installation services for those who need help with these and other bird control measures. For the complete line of products from Bird B Gone, call 1-800-392-6915; fax: 949-472-3116 or visit our website at http://www.birdbgone.com, e-mail: nobirds(at)birdbgone(dot)com.