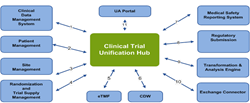 PRINCETON, New Jersey (PRWEB) June 13, 2015
"Today's clinical research industry is facing many challenges. Trial design is becoming increasingly complex while at the same time clinical schedules and budgets are being compressed. Researchers need to analyze large volumes of data to detect signals and trends in safety and efficacy. On top of this, collaboration among partners, data exchange with external data sources and electronic submission to regulatory agencies demand standardization and compliance", states Jian Chen, President and founder of EDETEK. "Traditional manual and function-specific system approaches can no longer satisfy evolving research and development needs. In response to numerous customer requests we are proud to announce the availability of Panther CTMP™ 3.0, the most cost-effective, unified Clinical Trial Management Platform available providing end-to-end management and insight into all aspects of clinical development."
First released in 2005 and built on industry standards, such as CDISC, HL7, and BRIDG, Panther CTMP™ 3.0 has been completely updated to leverage the latest technologies in semantic management, data standardization, statistical analysis and visualization. Panther CTMP™ 3.0 brings efficiency, quality, and versatility to trials of all types.
Dave Alderson, EDETEK's Vice President of Business Development and industry veteran remarks, "We have been able to structure all the necessary clinical trial conduct and data management capabilities into three functional areas; eClinical, eInfomatics and eSubmission. This approach results in a single, easy to manage platform that can rapidly deploy studies and provide everything needed to acquire, assess and submit clinical data while retaining the flexibility to accommodate established workflow."
EDETEK, Inc., a CDISC Registered Solutions Provider, is an innovative CRO that provides high-quality technology and services to pharmaceutical, biotechnology, and device companies. We utilize the Panther CTMP™ 3.0 platform, developed under ISO 9001:2008 certified processes, to fulfill our clients' clinical data and business analytics needs. Our comprehensive metadata driven solutions offer unparalleled advantages in terms of data quality, time to completion, and cost efficiency.
For more information contact:
Dave Alderson, VP Business Development 302-234-8648 or Jian Chen, President 609-720-0888