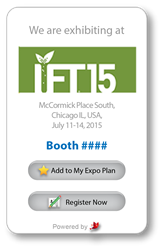 Columbia, MD (PRWEB) June 15, 2015
a2z, Inc., the Maryland-based event management solutions company, is pleased to announce that the Institute of Food Technologists (IFT) will be providing the official eBooth Promotion Widget powered by a2z, Inc. to exhibitors at their upcoming IFT15 Conference & Expo in Chicago.
Exhibitors using the eBooth Promotion Widget last year at IFT's 2014 Annual Conference received an average of 350 widget views per exhibitor and gained 3-4 genuine leads. Thanks to the dynamic features of the widget, exhibitors can engage their web visitors and take an active role in increasing their ROI at the event.
The IFT 2015 ChirpE eBooth Promotion Widget is a plug-and-play tool that does not require any coding or design skills to be published on an exhibitor's website, blog or e-newsletter. Once an exhibitor embeds the widget into their personal website, web visitors can immediately access their updated eBooth information including their company profile, product offerings, booth location on the IFT show floor, and much more with the single click of the button.
Additionally, attendees can add exhibitors as favorites to their personalized planners and register for the event with a simple click, allowing exhibitors to grow their prospective audience before the show begins.
IFT's Annual Conference is a three-day expo and educational conference designed to help food science professionals flourish in their field. Attendees are able to share ideas, innovations, and insights with other like-minded professionals in an environment that cultivates growth and development that would be difficult to attain elsewhere.
About a2z
a2z, Inc. provides powerful web-based event management tools that grow your show by increasing and accelerating booth sales, helping boost revenue, and enhancing engagement and value for everyone. a2z, Inc. powers more than 850 leading events every year. Our clients benefit from increased connectivity with their audience via an improved website for their attendees and exhibitors and both web-based and native mobile app solutions. a2z offers three platforms as one integrated solution: Expo & Conference Management, Networking & Lead Management, and ChirpE Mobile - which includes our web-based and native mobile apps for smart phone and tablet device.
About IFT
Founded in 1939, the Institute of Food Technologists is committed to advancing the science of food. Our non-profit scientific society—more than 17,000 members from more than 95 countries—brings together food scientists, technologists and related professionals from academia, government and industry. For more information, please visit ift.org.