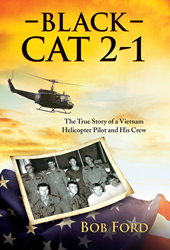 I treasure every moment and I am so proud of him.
Dallas, Texas (PRWEB) June 15, 2015
Bob Ford found himself in a pivotal role as a Huey Helicopter pilot during the Vietnam War and shares his experiences in Vietnam in his thrilling memoir, Black Cat 2-1: The True Story of a Vietnam War Helicopter Pilot and his Crew (Brown Books Publishing Group.) Ford was a soldier in the most dangerous place in the world, thousands of miles from home, and while his primary concern was with the safety of his fellow crew members, he stayed connected with his family through letters.
Ford, like many soldiers, carried photos and wrote letters to his wife back home. "The letters served as a mental break from the war; by writing home and visualizing what was going on there and the closeness of my wife and family, I persevered. I remember always hoping to resume that life again," said Ford.
Ford, along with many veterans, will be celebrating with his family this Father's Day, including his daughter Allison Lewis.
"I grew up without knowing what a hero my dad was," said Lewis. "I just thought he was a great dad. He says I was always in his 'hip pocket.' Now that I am older with kids of my own, I am thankful I not only have my dad but also a true friend and confidante. I am so blessed to be able to work with him on his book. I treasure every moment and I am so proud of him."
Ford flew over 1,000 missions during the Vietnam War between July 1967 and July 1968.
For more information and to purchase Black Cat 2-1 this Father's Day, please visit http://www.blackcat2-1.com.
###
For media inquiries, contact Cathy Williams or Gavin Rhoades at 972-248-9500; cathy.williams(at)brownbooks(dot)com or gavin(dot)rhoades(at)brownbooks(dot)com.