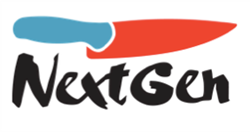 Boston, MA (PRWEB) June 16, 2015
The next generation of chef's knives has arrived. NextGen, a Boston-­based startup, today announced the launch of its Pro, Elite, and Custom San SebastianTM knives on Kickstarter. With a unique grip, inspired by how people naturally hold tools, and technology that utilizes a scan of the user's hand to create a personalized, perfectly fitted knife, NextGen has built the most comfortable knives in the world.
"Basic chef's knife design hasn't changed in hundreds of years," said Jeremy Fryer-­Biggs, founder of NextGen. "We realized that most knives aren't properly shaped for how they're used – the proof is in the callused hands of nearly every professional chef. This got us thinking that other areas, like the steel, could benefit from redesign too. By leveraging advances in modern materials and fabrication technologies, we created an extremely comfortable knife that's incredibly sharp and a lot of fun to cook with."
In addition to the top-­of-­the-­line San Sebastian Custom model, built from a scan of the user's hand, NextGen has also unveiled two ergonomically designed knives for any hand, the San Sebastian Pro and the San Sebastian Elite. All three NextGen models feature patent-­‐pending NextGripTM technology, exclusively designed to provide unparalleled comfort while all but eliminating cramps and calluses caused by traditional knives. The Custom and Elite models also feature the NextSteel super alloy, which offers premier edge retention for sharpness and a proprietary formula for durability.
NextGen's Kickstarter campaign launches today, June 16, offering an opportunity for consumers to pre-­‐purchase the knives at a discount as well as contribute to funding aimed to bring the product line to market. The pre-­‐sale prices will be $99 for the Pro model, $159 for the Elite, and $549 for the Custom. The campaign will run through July 13.
For more information on NextGen, go to http://www.nextgenknives.com, and visit the Kickstarter page at http://kck.st/1KKgyUI.
About NextGen: NextGen has reimagined the traditional chef's knife, resulting in a knife that embraces the latest advances in material science, metallurgy, and ergonomics while respecting traditional knife making techniques and craftsmanship. All San Sebastian knives feature exclusive, patent-­‐pending technologies including NextGrip in every handle, and NextSteel blades in the Custom and Elite models, providing chefs and cooking enthusiasts with a comfortable and precise cutting experience.