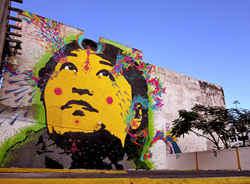 Cancun, Mexico. (PRWEB) June 15, 2015
Cancun is known worldwide for the color of its sand and turquoise waters; as the number one destination in Mexico for beach and sun tourism, it is also growing as an adventure and eco-tourism haven, however Cancun also has points of interest in the city and surroundings that appear in very few tourist guides and could interest those adventurers that want to go off the beaten path. Here are some of our suggestions:
1) El Rey. Located in kilometer 18 of the hotel zone, El Rey is one of the only archaeological sites found in the Island of Cancun. Historians say that, together with San Miguelito, it was the heart of a fishing and trade community, which scattered at the time of the Spanish Conquest.
2) Mayan Museum and San Miguelito archaeological site. Located at km 16.5 of the hotel zone, this museum houses important and unique pieces from the north of Quintana Roo and even from some other sites like Chichén Itzá, Palenque and Comalcalco. It is the most important museum created by the National Institute of Anthropology and History since the construction of the National Museum of Anthropology (1964) and the Templo Mayor Museum (1987).
3) El Ceviche. This fountain located in the intersection of Tulum and Cobá avenues has turned into a point of reference for celebrations and parades in Cancun. Its original name is "Fantasía Caribeña" (Caribbean Fantasy) but Cancun locals have lovingly christened it "El Ceviche". It was created in 1994 by Lorraine Pinto, a sculptor from New York, after the former fountain was left in a poor state by the passing of hurricane Gilbert (1988).
4) First building constructed in downtown Cancun. In Tulum avenue, one of the main arteries of the city, specifically in Tulipanes walkway lot 15, in front of city hall, there's a building constructed in 1973 which has the distinction of being the first construction of Cancun´s downtown. Today you can find a well-known franchise there (with the name that rhymes with ring). You can get there on a Route 1 bus.
5) The lost children's fountain. This fountain, which is found in City Hall square, shows two groups of children standing on two giant leaves cooling off inside the water. For several years, those children were lost, no one knows if they were stolen or a hurricane scattered them. They were found and placed back on the fountain in 2012.
6) First homes in Cancun. In 1970, when the construction of this destination began, the creators of Cancun set up camp in an area where later Fonatur (National Fund for Tourism Development) created Nader avenue and constructed the first 15 stonework houses, between the streets of Huachinango and Mero. Today there are many cafés and restaurants in that area that make the stroll worthwhile.
7) Parque de las Palapas. If you want to get to know another place where the flavors, colors, music and folklore of Cancun are noticeably present visit Parque de las Palapas, in the downtown area of the city. It is the quintessential meeting and recreation place of Cancun, the location of cultural and artistic events. The best days to visit are Saturdays and Sundays.
8) Market 28. Some of the great tourist attractions in our country are its folklore, colors, flavors and history. All of these things together can be found in market places. One of the most typical locations of this young city is its Artículo 115 marketplace, best known as Market 28. You can get there on a Route 2 bus all the way from the hotel zone or, if you are driving there, look for Xel-Há Avenue.
9) First Airport. Cancun began its air operations in a rudimentary runway with a control tower made of wood and palm leaves which was in use until 1973 and later became Kabah avenue. An interesting anecdote is that, once the new airport had been constructed, in 1976 a commercial jet landed by mistake on Kabah Avenue causing confusion and surprise among locals as the avenue was already in use as part of the city. In remembrance of this historical location in Cancun's history, a replica of the old control tower can be found in the corner of Tulum and Kabah avenues, close to its original location. This area of the city can be reached on a Route 2 bus.
10) Casa Maya / Kabah Park. If you are already nearby Kabah avenue, you can also visit Kabah Park, a protected nature area since 1991. Outstanding among the many attractions of the park is Casa Maya, which was originally found in Marlín Beach and was designed to house important personalities in politics and finance who visited Cancun in its beginning stages. Later on, this house was transferred to the park stone by stone and turned into a historical museum. Furthermore, along the pathways of the park, several different mammal, reptile and bird species can be found such as coatis, crocodiles and spider monkeys. The park is a recreation area surrounded by vegetation and peace amidst the urban hubbub of Cancun. We recommend you take your time to visit and have a stroll there.
11) Puerto Juárez. Today, the port is a suburb of Cancun, 2 km north of downtown. Besides being the place that ferries depart from to Isla Mujeres; it is worth mentioning that the original population before the foundation of Cancun as such inhabited this area and it existed as an independent town until 1990.
Photo Credit: http://www.streetartnews.net/
Mural by: Stinkifish for FIAP '15