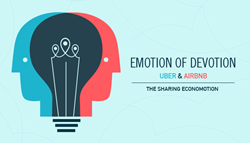 "Airbnb's novelty adds to its brand appeal and has a strong impact on the relationships users form with it." - Protobrand CEO Anders Bengtsson
Boston, MA (PRWEB) June 15, 2015
Protobrand released the results of its latest Emotion of Devotion study exploring the emotional underpinnings of brand devotion for Uber and Airbnb. The Meta4 Insight study revealed the experiential and emotional footprint of both brands across a nationally representative sample of Uber and Airbnb users and providers. Protobrand used a combination of metaphor elicitation visual exercises, response latency tests, and traditional cognitive survey questions to discover that Uber and Airbnb cultivate a sense of warmth in their consumer base by providing an easy-to-access service which traditional services (hotels, taxi companies) cannot. These findings account for the rapid growth of brands participating in the sharing economy and help define the characteristics separating them from traditional business models.
Uber and Airbnb occupy separate terrain in the human subconscious. Airbnb is viewed as a generator of authentic experiences and social connections; satisfying wanderlust travelers and providing guests with an immersive experience. Uber is viewed a stress reducer; a convenient service that is available when needed but otherwise nonintrusive.
"We found that Airbnb's novelty adds to its brand appeal and has a strong impact on the relationships users form with it," said Protobrand CEO Anders Bengtsson during the live webinar. "Many guests and hosts are still forming their relationship with Airbnb, which could be described as a 'fling'. For Uber, however, consumers are already familiar with the service which leads to a more cooled relationship."
The study found several adjectives commonly used to describe sharing economy companies such as Uber, Airbnb and others via Protobrand's Meta4 Insight exercises. Common descriptors include "comfort," "friendliness," and "connection." Regardless of service, companies that provide social interactions along with convenient services elicit these positive responses from consumers and employees. The study uncovered many other insights into the everyday use of both brands and the shifting perceptions of the digital space. Visit Protobrand's website to view the full deck.
Protobrand is an independent research and branding company specializing in uncovering emotional insights. Through Meta4 Insight™, an application for online metaphor elicitation, we reveal people's subconscious minds to develop insights that create emotionally resonant brand relationships. Meta4 Insight builds upon decades of academic thought and scientific research into the workings of the human mind. Clients include Disney, P&G, AOL, Bank of America, Target, and Unilever among others.