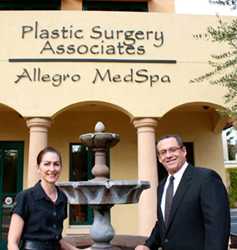 Santa Rosa, California (PRWEB) June 12, 2015
Dr. Francisco Canales and Dr. Heather Furnas, two of the Napa Valley's top plastic surgeons, have recently introduced UltraShape to their practice. The groundbreaking technique utilizes ultrasound technology, and does not involve incisions or sutures. UltraShape is the only fat elimination method of its kind to be approved by the Food and Drug Administration (FDA).
Utilizing high-intensity pulses of ultrasound energy, UltraShape precisely targets accumulations of subcutaneous fat. The treatment works by causing small bubbles to form, as a result of the ultrasound's mechanical vibrations. These then breakaway and dissolve the walls of the fat cells. The treatment can provide excellent body contouring benefits, which can be seen as early as two weeks after the first of three required sessions.
The UltraShape System was approved by the FDA in 2014, as a safe and effective method to eliminate localized fatty tissue. Surrounding muscles, vasculature, and healthy tissues are not affected by the treatment. Since UltraShape does not require the use of a scalpel, there is little to no chance for scarring, infection, or any of the complications seen with traditional body contouring procedures.
Plastic Surgery Associates have a long history of bringing cutting-edge treatments to their patients. While liposuction provides the ultimate in fat reduction, the addition of the UltraShape System is perfect for those who do not want, or cannot, undergo a surgical procedure. The method is an excellent alternative to CoolSculpting, as well. Dr. Furnas further explains, "(During an UltraShape treatment) elastic bands are wrapped around the patient to compress the fat, so it bulges maximally for a more effective treatment."
Dr. Francisco Canales and Dr. Heather Furnas founded Santa Rosa's Plastic Surgery Assocites in 1992. Trained at Harvard and Stanford, Dr. Canales has exceptional experience in cosmetic and reconstructive surgery. "We strive to add joy to our patients' lives through genuine caring, generosity of spirit, and the quality of our work," Dr. Canales states. Dr. Furnas earned degrees from Stanford and UCLA Medical School. Both surgeons hold Board Certified from the American Board of Plastic Surgery. They offer their patients a variety of procedures, including breast augmentation, body contouring, and facelifts, as well as rejuvenating noninvasive techniques and injectables.
To learn more about Dr. Canales, Dr. Furnas, or the UltraShape procedure, please visit http://www.enhanceyourimage.com. Schedule a confidential, complimentary consultation at Plastic Surgery Associates by contacting the Santa Rosa office at 707.537.2111. Patients traveling from out of town can complete an online consultation, as well. Please let your patient coordinator know if they can assist with travel arrangements.
Contact:
Plastic Surgery Associates
4625 Quigg Drive
Santa Rosa, California 95409
707.537.2111
http://www.enhanceyourimage.com