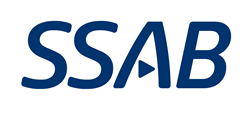 With this award, we have shown that environmental sustainability is at the core of what we do at SSAB.
New York, New York (PRWEB) June 12, 2015
On Tuesday evening, SSAB Americas beat out steel industry competitors to win a 2015 American Metal Market (AMM) Award for Steel Excellence in the category of Environmental Responsibility/Stewardship.
The AMM Awards for Steel Excellence, now in their sixth year, honor world-class companies in and in support of the global steel industry. A total of 45 finalists in 15 categories were drawn from the largest, most-competitive pool of applicants ever nominated, and winners were chosen by a prestigious panel of judges.
SSAB Americas earned the award for achievements in operating as good stewards for the environment. The company's nomination focused on six key projects over the past five years that have achieved significant goals in environmental responsibility. The results of SSAB's initiatives have been less waste being sent to landfills, less energy being consumed and more materials being recycled.
Jon Howley, Director, Environment for SSAB Americas, accepted the award on the company's behalf at the awards dinner, held in New York City. "With this award, we have shown that environmental sustainability is at the core of what we do at SSAB," said Jon. "We have strived to make the least impact possible to our environment, to help create a better world for tomorrow. I am honored that our efforts are being recognized and proud to have been able to accept the award on behalf of the company."
SSAB Americas' achievements in environmental responsibility have included more than three million pounds of trash being diverted from landfills, reduced consumption of electricity in certain areas by 70 percent due to new lighting, millions of scrap tires being saved from illegal dump sites and recycled in the company's steelmaking process, and more than 200,000 tons of electric-arc furnace (EAF) baghouse dust being recycled.
SSAB Americas produces steel plate and coil in the US at mills in Montpelier, Iowa and Mobile, Alabama, with offices and support facilities also located Chicago, Toronto, Houston and St. Paul. Together, the organization's nearly 1,300 hard-working employees make steel that is used to build heavy machinery, ships, bridges, wind towers, rail cars and more.
The awards dinner was attended by about 250 steel industry leaders from around the world at the Edison Ballroom in midtown Manhattan.
-#####-
SSAB
SSAB is a Nordic and US-based steel company. SSAB offers value added products and services developed in close cooperation with its customers to create a stronger, lighter and more sustainable world. SSAB has employees in over 50 countries. SSAB has production facilities in Sweden, Finland and the US. SSAB is listed on the Nasdaq OMX Nordic Exchange in Stockholm and has a secondary listing on the Nasdaq OMX in Helsinki. http://www.ssab.com.