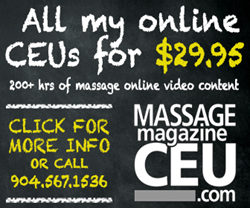 Ponte Vedra Beach, Fla. (PRWEB) June 15, 2015
MASSAGE Magazine, the premier digital and print publication in the massage industry, has revealed a new online continuing education unit (CEU) solution for licensed massage therapists in Florida. Enroll today to receive all of your online courses including those required by the Florida Board of Massage Therapy for the groundbreaking rate of $29.95.
To renew your massage license, Florida requires therapists to submit 24 continuing education hours, 12 of which may be completed online, biennially on August 31. All resident massage therapists must include two hours of Florida MT laws and rules, two hours of professional ethics, and two hours of medical errors—all of which are included in the 200+ hours within MASSAGE Magazine's CEU library.
Ongoing industry research reveals the high cost of state-required CE hours to be a continual challenge for massage professionals, with most spending between $125 and $150 per year on online CEUs. In partnership with Home CEU Connection, the industry-renowned publication was able to reduce this cost by as much as 80 percent.
MASSAGE Magazine's online learning center supports massage therapists in advancing their practice by offering instant access to courses that are affordable, accessible and NCBTMB approved (Provider #451771-11). Upon completing a course and passing the online exam, each subscriber receives instant proof of CEU completion; and the hours are automatically reported to the state of Florida.
In addition to all Florida required courses, massage therapists may choose from more than 200 CE hours in the site's diverse online video library. Subscribers may also re-watch courses at any time and complete them at their convenience. Since they are accessible from a mobile phone, tablet or computer, touch therapists can even earn their CE hours on the go.
To receive unlimited access to MASSAGE Magazine's online CEUs and meet your state-specific requirements, visit http://www.massagemag.com/ceu-center.
About MASSAGE Magazine
MASSAGE Magazine's mission is to provide massage and touch therapists with the tools, information and resources to help them succeed both in their businesses and their session rooms. For the latest massage news, articles, products, videos and more, visit http://www.massagemag.com.