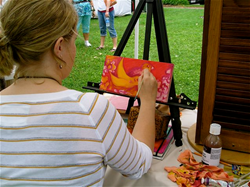 Galena, Illinois (PRWEB) June 16, 2015
It's hard to imagine unless it's seen in person. This little town that time forgot is known across America as a premier leisure vacation destination and it's not hard to see why. With eclectic shopping, fine dining, history, amazing architecture and outdoor adventure there is plenty to see and do in Galena, Ill.
One major draw for visitors is the arts and culture experience. Watch real blacksmiths at work in the Old Blacksmith shop or stop by a museum and take in the history and heritage. Witness a pottery throwing demonstration or visit with an artist during a meet and greet at a local art gallery. Galleries line Galena's historic Main Street and showcase paintings, photography and pottery by locals as well as national and international artists. The Galena Center for the Arts also features rotating exhibits throughout the year, so there is always something new to see.
Adding to the year-round experience, Galena hosts events that cater to arts and culture lovers. The Galena Festival of the Performing Arts - July 8, July 10-11 and July 17-18 - features live performances by My Sweet Patootie, The Hunts, Tallymoore and Lincoln Trio. Or check out the Market Square Arts Festival, Aug. 8-9, where dozens of area artists showcase their work.
Details, other area offerings and lodging options can be found at http://www.VisitGalena.org or call 888.942.5362. While in town, stop by the Welcome Center in the Old Market House, 123 N. Commerce St., Galena IL 61036.