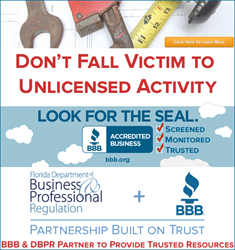 Hiring an unqualified, unlicensed professional can lead to many headaches and lost money. Don't be a victim! Hire a licensed professional!
Clearwater, FL (PRWEB) June 15, 2015
As part of Unlicensed Activity Awareness Week June 15 - 19, the Better Business Bureau (BBB) and the Florida Department of Business and Professional Regulation (DBPR) are reminding Floridians to thoroughly research professionals and businesses prior to hiring and to report suspected unlicensed individuals. Unlicensed activity is against the law -BBB and DBPR take unlicensed activity very seriously because it threatens the safety of Florida's consumers as well as takes away business from licensed professionals throughout the state.
Unlicensed activity occurs when an individual offers to perform or performs services that require a state license and the individual does not hold the required license. Florida law sets specific rules and guidelines for obtaining professional licensure, and the people who have met these requirements are held to professional standards.
"Choosing the right professional, a licensed professional, is one of the most essential aspects when deciding which business you choose," said Karen Nalven, President of BBB Serving West Florida. "Hiring an unqualified, unlicensed professional can lead to many headaches and lost money. Don't be a victim! Hire a licensed professional!"
"Unlicensed individuals often target the elderly and other vulnerable people with high-pressure sales tactics," said DBPR Secretary Ken Lawson. "They also may lack the proper qualifications, perform substandard work or neglect to finish a project. The best way to avoid becoming the victim of an unlicensed activity scam is to verify licenses and check references before you hire a professional."
Both BBB and DBPR have online resources to educate consumers on how to report unlicensed activity.

# # #
About BBB
For more than 100 years, Better Business Bureau has been helping people find businesses, brands and charities they can trust. In 2014, people turned to BBB more than 165 million times for BBB Business Reviews on more than 4.7 million businesses and Charity Reports on 11,000 charities, all available for free at bbb.org. Five BBB offices service the State of Florida, with primary locations in Clearwater, Jacksonville, Longwood, Pensacola, and West Palm Beach.
About DBPR
The Department of Business and Professional Regulation's mission is to license efficiently and regulate fairly. The Department licenses and regulates more than one million businesses and professionals ranging from hotels and restaurants, real estate agents and accountants to veterinarians, contractors and cosmetologists. For more information, please visit http://www.myfloridalicense.com.