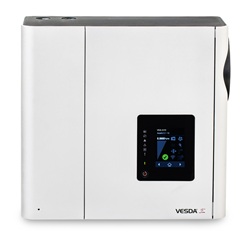 I can see many applications where uninterrupted servicing is of value to our customers
(PRWEB UK) 15 June 2015
The recently released VESDA-E VEA aspirating smoke detector has received a major endorsement from Intrepid Electronic Systems, Inc., a leading Fire, Security, and Technology solution provider serving the greater San Francisco Bay Area of the USA. Intrepid is a certified VESDA PRO — an elite, invitation-only group of dealers dedicated to delivering excellence of design, installation, commissioning, service, and maintenance for Xtralis detection products. Intrepid clients are some of the world's most famous brands, including Google, Novartis, and Pixar Studios.
"Intrepid Electronic Systems, Inc, has installed and evaluated the VESDA-E VEA in our Oakland and San Jose offices and performed demonstrations to a number of prestigious corporate customers," commented Mr. Kurt Brinkman, Owner of Intrepid Electronics Systems. "After seeing the VESDA in action, they ordered a VEA system for their own evaluation in a riser application to control smoke dampers using VEA addressable sample points," he added.
"The VESDA-E VEA was simple to install and worked perfectly during customer demonstrations. The key features that stood out to the clients were that the VEA provides end to end system integrity monitoring, integrated blowback to clean sample points and ease of annual testing and maintenance. Access to the sample point was not necessary for regular testing and maintenance. These features overcame any access issues they had for their riser application. I was impressed with the performance of the VEA. The concept of centralized maintenance is great. I can see many applications where uninterrupted servicing is of value to our customers," Brinkman concluded.
VESDA-E VEA is the only addressable detector in the market that delivers "assured detection" through active sampling, proactive self-supervision, auto-cleaning, and highest longevity with sustained sensitivity for the laser detection chamber. The centralized detection architecture with up to 120 sampling points, coupled with auto supervision and cleaning, lowers servicing time by up to 90% and decreases total cost of ownership, and dealers can multiply their service revenues and margins with the dramatic increase in productivity. End customers will benefit from unobtrusive and interruption-free servicing that is a must for hospitals and other 24/7 operations. Superior connectivity options and an iVESDA mobile app allow for remote monitoring and ensure effective response locally and by fire brigades to minimize loss of property and business interruption. VESDA-E VEA has already received UL approval is available immediately. To learn more, visit http://www.xtralis.com/VEA.