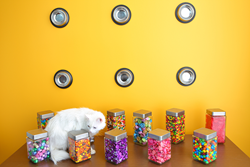 Newtown Square, PA (PRWEB) June 15, 2015
Move over, Rover: Petplan pet insurance will launch "Take Your Cat to Work Day" on Thursday, June 25 with a day-long fête to honor feline friends. The holiday comes just 24 hours before Pet Sitters International's annual Take Your Dog to Work Day®, which has been a staple of office life since 1999. The idea to turn tradition on its tail came from Petplan co-founder and co-CEO Natasha Ashton.
"There are approximately 13 million more cats than dogs in the United States," says Ashton, "so why should dogs have all the fun? Cats already act like the boss of our homes and families; the next natural step is to give them their rightful place at the conference table. And that place is on it."
Cats lounging on keyboards and snoring in drawers is a common occurrence at Petplan's headquarters in Newtown Square, Pa.; the insurance provider has hosted cat-only "Feline Fur-st Fridays" on-site for nearly two years.
So what's the trick to ensuring things run purr-fectly when kitties come to work? Petplan team members share the following advice to make sure everyone leaves the office with all nine lives:
Pets should wear collars whenever you leave home and it's a good idea to attach a bell to it, too, so coworkers can hear when they're underfoot. Nothing feels worse than accidentally rolling over a paw!
–Natasha Ashton
Bring in a few of your cat's favorite things from home to help him feel comfortable in the office. A bed or cat carrier, toys, food and water bowls and a litter box are a must. A can of air freshener is usually appreciated by your colleagues, too.
–Chris Ashton, Petplan co-founder and co-CEO
Put safety first! Remember that electrical cords and wires can be a tempting toy for curious cats. The day before you bring your cat in, double check your office space to be sure all cords are secured safely out of paw's reach.
–Dr. Jules Benson, Petplan Chief Veterinary Medical Officer
Make sure your kitty is wearing a collar and ID tag! My cat Milo actually escaped from the office during one of his visits. Thankfully a police officer found him (at the grocery store down the street!) and returned him to me, but if he didn't have identification on him things could have been very different.
–Brittany Irvin, Petplan Happiness Manager
"Cats bring something special to the workday," says Ashton. "Dogs may get tons of attention for their clowning enthusiasm, but our feline friends both soothe and charm. We have found that cats contribute every bit as much to a happy and productive workplace as their canine counterparts. It is our hope that companies who allow dogs in the office will open their doors to cats, too. Take Your Cat to Work Day is the perfect opportunity for workplaces to include all pet parents in the fun."
For a behind-the-scenes peek at Petplan's pet-friendly headquarters, visit http://bit.ly/Petplan-Office.
###
ABOUT PETPLAN
Petplan is more than a pet insurance company. We're dedicated to providing pet parents with the support, resources and tools they need to keep their pets not just surviving—but thriving—into their old age. Simply put, we aim to be the kind of company that will make our pets proud. For the third consecutive year, Petplan was listed among Forbes' annual ranking of America's Most Promising Companies – a list of 100 privately held, high-growth companies with bright futures. Petplan is the only pet insurance company to have been included on Inc. Magazine's list of 500 fastest-growing, privately held companies in America.
Petplan's fully customizable cat and dog insurance policies provide comprehensive coverage for all hereditary and chronic conditions for the life of the pet as standard. Petplan policies are underwritten by AGCS Marine Insurance Company in the U.S. and by Allianz Global Risks US Insurance Company in Canada. The Allianz Group was rated A+ by A.M. Best in 2014. For more information about Petplan pet insurance, visit http://www.petplan.com or call 1-866-467-3875.