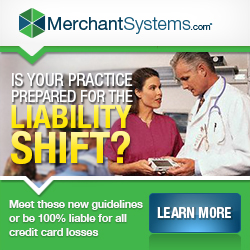 'MerchantSystems.com is very pleased to partner with these great companies to help our members protect their businesses and operate more efficiently.' - Brad Lewis, President
Fremont, California (PRWEB) June 15, 2015
The U.S. experiences approximately $8.5 billion in fraudulent payment card transactions every year. Over the past several years, the widespread increase in data systems breaches which resulted in catastrophic losses have underscored the need for greater security measures.
Data security breach activity within the healthcare industry, in particular, has increased sharply in recent months. The payment card industry has set new standards whereby the liability of fraudulent transactions may shift to the owners of the medical offices where the breaches occur; beginning in October of 2015.
Galaxy Health Network, a Preferred Provider Organization (PPO) based in Arlington, TX, has just announced an alliance with two organizations, MerchantSystems.com and The United American Way Association, to help physicians become compliant with these new standards and reduce potential exposure to liability by protecting their patients' data and providing secure solutions at the physicians' offices.
To facilitate the transition to a secure and compliant payment platform and to deliver cyber security protocols, these organizations have made healthcare technology news by launching MedicalDataProtection.com to educate medical staff on how to protect data.
MerchantSystems.com has created an online 'Merchant Marketplace' that puts business owners in contact with dozens of national companies and helps reduce potential exposure to security breaches. Their members can obtain $50,000 in commercial liability insurance coverage and free compliant equipment.
The United American Way Association is a non-profit organization established to help Self Employed and Micro-Business entities in both savings and legislative influence. Companies seeking information on the advocacy programs for micro-businesses should visit TheUAWA.org.
Through the coordination of their efforts, a national awareness campaign has been launched specifically for the medical industry. This includes a free educational 'e-conference' which delivers more information about the regulation changes that will take effect later this year. The presentation can be found at MedicalDataProtection.com.
Those interested in learning more about securing their offices against data breaches can visit http://www.MedicalDataProtection.com. The Member Services department can be contacted by calling 1-844-637-2479 or emailing Secure(at)MedicalDataProtection(dot)com