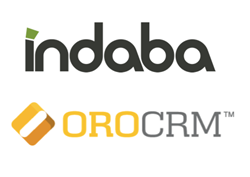 OroCRM is an ideal solution and partner for Indaba Group. It's extremely flexible, allowing our clients to customize for their unique needs. And it's exceptionally powerful, providing accurate and detailed customer data.
Denver, CO (PRWEB) June 16, 2015
Indaba Group, an award-winning strategic ecommerce agency, has partnered with OroCRM, an open-source CRM application, to offer invaluable customer insights and customer management tools that help to increase sales, create targeted and meaningful marketing campaigns and build an informed and effective sales force.
"We're always looking for ways to help our clients improve sales from their ecommerce platform," says Ryan Shields, CEO of Indaba Group. "OroCRM is an ideal solution. It's extremely flexible, allowing our clients to customize for their unique needs. And it's exceptionally powerful, providing accurate and detailed customer data."
Indaba Group believes that OroCRM is the most flexible CRM platform. OroCRM captures and links important customer information from all communications and sales channels into a 360 degree view of each client. Customer data is gathered both online and in-store, allowing retail brands to segment audience insights and create powerful marketing campaigns that are customized for the brand and personalized for the consumer. OroCRM easily integrates with Magento, as well as every other ecommerce tool and software used by Indaba's clients, creating a seamless customer management tool.
"Indaba's experience in the ecommerce industry is unparalleled," says Jary Carter, Co-Founder, at OroCRM. "Their reputation with creating compelling customer experiences and their ability to focus on overall business objectives while maintaining active and highly functioning sites makes them a perfect partner for OroCRM."
Another key reason for this partnership is a focus on the B2B ecommerce vertical. As Indaba Group has grown its B2B client base over the past year, they have run into some unique challenges. Due to unique sales cycles and product inventory, it's been difficult to find a platform that provides the appropriate functionality for these brands. Oro has risen to the challenge. They are creating a new platform specifically designed for the B2B ecommerce industry from the ground up. OroCommerce, like OroCRM, will be an extremely flexible open source application, offering a completely unique, powerful and flexible solution.
"We have a long history with the Magento platform and have worked closely with Yoav, Jary and Dima in the past," says Shields. "These are talented, intelligent ecommerce professionals, and we're thrilled to work with them again and truly help to revolutionize the B2B ecommerce industry."
To learn more about these companies, visit http://www.indabagroup.com and http://www.orocrm.com.
About Indaba Group
Indaba Group (http://www.indabagroup.com) is a technology services and solutions provider specializing in enterprise software development, ecommerce, creative services, and customer experience management. Based in Denver, Colorado Indaba Group drives success with clients nationwide and across the globe through communication and collaboration.
About OroCRM
OroCRM (http://www.orocrm.com) was founded in 2012 by industry leaders Yoav Kutner, previous CTO and Co-Founder of Magento,Jary Carter, former VP of Sales and Channel of Magento, and Dima Soroka, Former Lead Architect at Magento. At their core, Oro believes in a product that is flexible, has key marketing tools for multi-channel businesses out of the box, and enterprise-class dashboards and reporting that help companies make sense of disparate data.